Mini Industry Clicker
characters

97
graphics
Theme

historic
camera

other /none
show more
technical
graphics quality selection
low power mode
sign in methods (Android)

Google, Guest / none
show more
Idle
complete quests to advance
currencies

2
show more
details
App size (memory used)

342
release date

1 Feb 2021
show more
Vertical incremental clicker
worlds / industries

5
show more
complete quests to advance
graphics quality selection
Description
AdVenture Ages is another vertical idle clicker game from Hyper Hippo, closely following in steps of Adventure Capitalist & Adventure Communist. You might expect tons of offline progress, lots of clicking, and a steady amount of ads.
If you liked the cartoonish style of previous titles (especially the Communist one), you'd surely love how this worked for a historical theme. You're greeted by 2 space-travelers, their ship, and a robot, but you'll most of the time see worlds from the distant past. The game starts with recruiting a few gladiators, then you'll be able to get some chariots, build arenas, and so on. Soon, you'll be able to unlock characters to support those "facilities" - like Spartacus leading gladiators or Julius Cesar empowering the whole age.
It's safe to say that those characters are one of the vital features here. Discovering the most famous historical figures drawn in bold, vibrant style (and making them work for you) feels pretty rewarding. The rest of the UI is also finely crafted - like large, colorful buttons, lots of smoothly moving elements (to indicate work being done), and even flames surrounding characters.
The gameplay is almost identical to this in previously mentioned titles. The first facility produces relics for an age (like swords for the bronze age) required for further investments. Investing in a 2'nd facility creates items in 1'st for you, and so on. Your progress also affects population growth - another "currency" needed for upgrades. To free you from the need to collect produce every few seconds, you'll be able to employ mentioned characters - their essential ability is automatization.
Yet, another way they work is by multiplying various factors, like growth speed or population production. That's much needed as progress becomes slower and slower - and that's where the quest/prestige system comes to help. By completing simple tasks (like getting X resources of type Y), you'll be granted a chest with random character cards and XP to upgrade them. After completing a given number of quests, you can reset everything, get bonus resources, and unlock new types of cards - so you can get even further in the recent run.
To make things more interesting, there's a separate tab for time-limited events. Entering one, you'll start a single run from scratch in a given theme and compete with others for great rewards.
AdVenture Ages is free and can be played without watching ads - but that way, you'll miss many opportunities. Also, the game generously gives you some chests - but to speed things up, you can always purchase better ones from the shop - or get a premium pass.
Last update: game added to overtap: 2 Sep 2022 07:09
No updates seen yet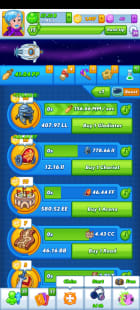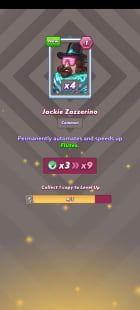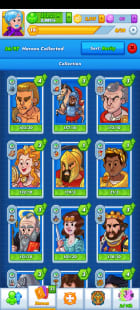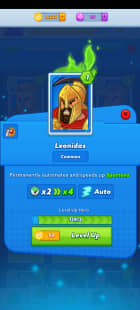 Resources
Main
Shared by others