graphics
Theme

small/funny/cute creatures
graphic style

outlined simple vector / doodle
show more
technical
sign in methods (Android)

Google, Facebook, Guest / none
server / region selection
FPS selection
PC/console/browser cross-play
show more
Tower Defense, Strategy
autoplay

full auto
Tower Defense
idle income

yes
send on mission
tower types

44
show more
social
clan wars
show more
Theme
small/funny/cute creatures
graphic style
outlined simple vector / doodle
sign in methods (Android)
Google, Facebook, Guest / none
Description
Auto Puzzle Defense is another example of a recently popular "random defense" game - a quick, easy-to-learn clash between 2 players, perfectly fit for mobile. Yet this one is a little special, adding a new board and complexity layer for extra fun.
The aesthetics here are somewhat unique. Usually, the random towers are heroes/characters/animals with different abilities - yet here, you'll be placing just blocks with icons. That might sound boring, but there is more to see. Enemies are cute, doodle-like creatures shaped in the form of animals, fruits, or even everyday objects. Moreover, they'll be all over menus, explaining things in guides, and they can even be used as emotes - with cute sounds! It looks chaotic and lovely with neat, clean menus, energetic, jolly music, and many simple effects.
At first glance, gameplay might look just like every other random defense. You can buy a new block with mana, join existing blocks of the same type and level to get upgraded one, or boost all grom given kind. The main difference here is that the blocks you're moving aren't the ones that are shooting! According to the placement, they appear on a timeline above, and when the time comes - the stack of the block above is automatically fired. That's like someone auto-playing match-3 for you, depending on your blocks' strategy. While this might initially sound confusing, the gameplay is no more complex than usual - it just brings some new possibilities. That means - aside from modifying movable board, attacking enemies, or disturbing enemies, you'll be able to affect this attacking board favorably.
Auto Puzzle Defense offers a standard selection of modes - versus and co-op, both with random players or friends. What's interesting, both got separate battle-pass systems. Unsurprisingly, to fight with stronger players, you'll need to upgrade your blocks' collection by getting new types and boosting existing ones. They are divided into several classes, like attack, magic, etc., easily distinguishable by shape. To help you become stronger, the game will generously give shards, money, tickets, or keys - not only from victories and multiple passes but also from an idle box.
You don't have to worry about the game pushing too many ads - the amount of reward videos is limited, and nothing will be shown without your consent. Instead, there's a rich shop with premium currency, packs, passes, and many more.
Last update: game added to overtap: 14 Aug 2022 15:08
No updates seen yet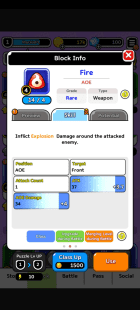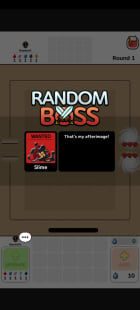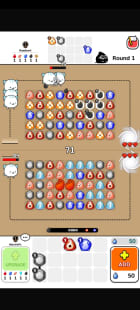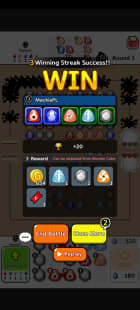 Resources
Main
Shared by others