graphics
artists

yudoart, Dave Kang
graphic style

illustrative
camera

isometric
Theme

fantasy
show more
RPG
battle mechanics

brick-breaker
6 items to rank up
autoplay

no
team size

5
show more
monetization
ads amount

little ads
show more
controls
orientation

vertical
show more
gameplay
online (PVP)
show more
Description
Battle Bouncers is a free mobile linear/hero-collector RPG with IAPs. Yet, it comes with some really unique features in almost every game aspect.
Most mobile RPGs nowadays look the same - either 3d or 2d vector-based characters that could be easily animated. Battle Bouncers went a different path. Each hero is represented only by a portrait in the menu - and during a fight, you won't see much more. That portrait looks more like a painting you'll put on a wall or find in a book than usual game art. Also, you won't find any overly attractive characters or dreadfully strong - but generic - warriors here. Instead, every hero is unique - from joyful priestesses, suspicious thugs, and unshaven dwarves to mysterious robots and (sometimes even cute) beasts.
Those heroes are just standing at the bottom turned backward during the fight, and enemies are approaching - both drawn in vector 2d, yet animated & decent way. What happens between is usually a blaze of colors - definitely pleasant to watch.
That's because the game isn't just a series of turn-based attacks or real-time brawls. To defeat enemies, you need to play a brick-breaker / breakout-like match. Enemies are spawned continuously at the top, and your shoots depend on team composition & strength. That means rounds cannot be auto-played - but instead, they're just fun! Also, if you'd need some loot from the previously perfected stage, you can simply seep it.
Unsurprisingly, there are more than just simple bricks to break. Aside from static blocks like wood & stones, there are plenty of enemies with various behavior on the battlefield. Some are rushing towards you, some will shoot, some will be confused after being hit, and others just explode. Eventually, you'll see bosses - far larger than a single tile and requiring more than just a few well-aimed series.
Aside scenario, there are several usual modes for additional challenges - the heroic one, towers, events, or tournament with an online leaderboard.
To become stronger, heroes could be upgraded in the usual way - leveled-up, ranked-up with 6 items, or starred-up with shards. Interestingly, the game doesn't seem to be all about gacha chests - you can get them primarily by playing & trading gold & tokens. There's also a way to get them with premium currency - but it's generously given even without paying - and there's a premium pass.
Last update: 16 Aug 2022 00:08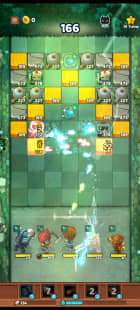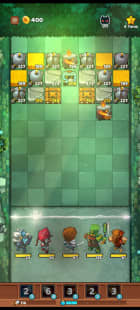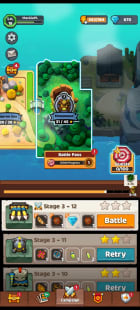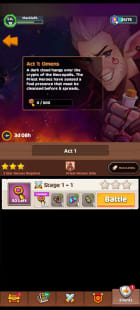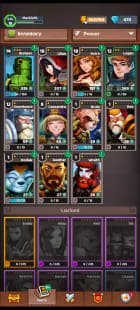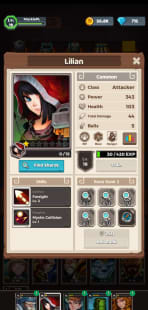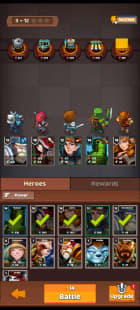 Resources
Main
Shared by others