graphics
Theme

fantasy
graphic style

2d outlined vector
show more
Roguelike
battle pet/machine system
artifact/relic system
No of heroes

8
show more
controls
orientation

horizontal
show more
monetization
ads amount

many ads
show more
Casual RPG
equipement system

advanced
offline earnings
show more
details
release date

7 Jul 2022
show more
technical
graphics quality selection
show more
battle pet/machine system
Description
Battle Survivors is one of many recently released survivor titles. It comes with the usual fantasy theme, some interesting features, and heavy monetization.
The game uses relatively standard looks - vector-like 2d art with outlines, heavily zoomed-out to fit many enemies from the beginning. Both heroes and enemies are tiny figures with barely noticeable faces - or tiny but scary monsters. Interestingly, you'll often obtain skills with effects much bigger than the enemies it'll be hitting. The main screen gives an excellent glimpse of this - giant swords flying through the map, lightning covering the whole screen, or projectiles cutting through tens of foes - that's some pleasant view. The UI look clean and colorful, but aside from the skill showcase - rather generic.
When the round begins, you start just like usual - equipped with a single weak skill, surrounded by weak enemies. Killed monsters will drop gems, and collecting them will let you level up, eventually discovering more random abilities or upgrading existing ones. A nice thing here is a simple combo system. After maxing out one attack and obtaining a supporting buff, a new powerful combo skill is unlocked. From time to time, a mini-boss will appear (just a stronger regular monster), and once in ~5 minutes, you'll have to fight the real boss. Occasionally, you'll find some coins or a useful item - a magnet, health, or bomb/temporary skill. Additionally, you can bring a pet into battle, for a minor benefit, like auto-collecting some gems or additional attack.
Outside battle, you'll be given several ways to increase your chances. There's a well-known perk purchase system with all sorts of buffs, from HP boost to additional bullets - and you can also unlock new heroes. Yet that's not all - after several fights, you'll get access not only to mentioned pets but also to a whole equipment system, with upgrades and forge. You can also choose between standard adventure and more demanding challenges for some extra loot - and there are some offline earnings as well.
Battle Survivors won't force you to watch ads in any form - but reward videos are everywhere - revive, skill shuffle, additional chest skill, etc. Alternatively, you can get a premium subscription or use one of many offers.
Last update: game added to overtap: 25 Oct 2022 06:10
No updates seen yet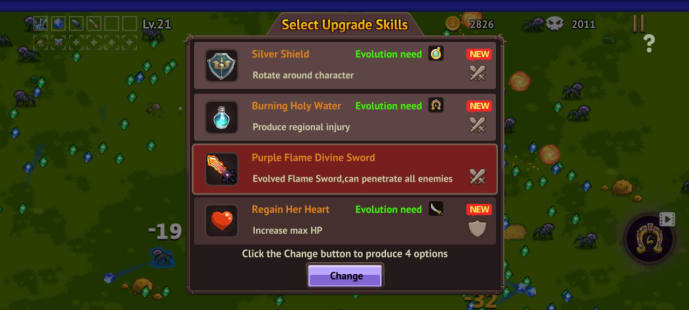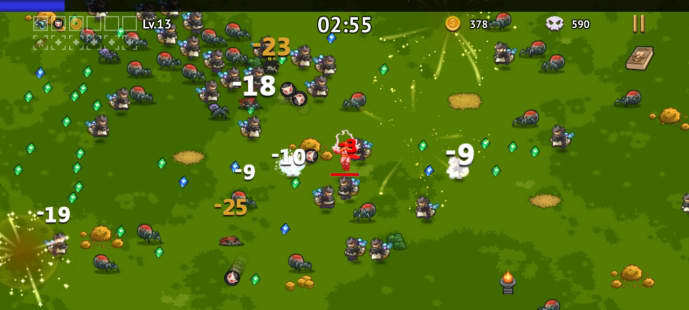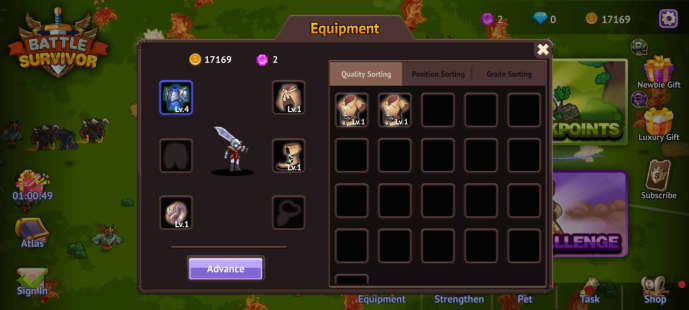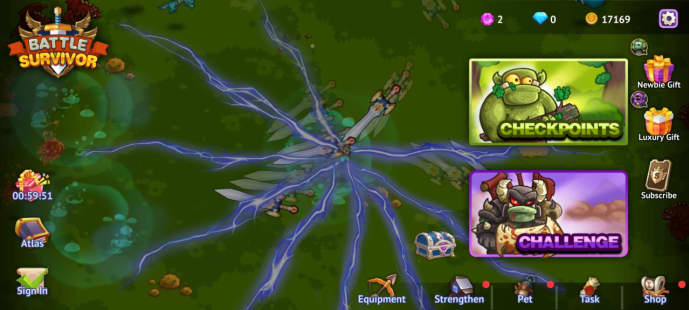 Resources
Shared by others