graphics
Theme

other / mixed/ none
camera

fixed camera (perspective)
graphic style

stickman/blob simplistic 3d
perspective

3d
show more
monetization
ads amount

tons of ads
banner ads
gacha / chests
forced ads
show more
Roguelike
No of heroes

10
artifact/relic system
show more
details
release date

1 Apr 2022
show more
camera
fixed camera (perspective)
graphic style
stickman/blob simplistic 3d
Description
Blob Hero is one of many Casual Survivor titles - with an Archero-like approach, interesting 3d effects, and a sick amount of ads.
Most of such games use purely 2d perspective, and that's understandable - you can move only on a flat plane, with no jumps or anything. Because of this, it's refreshing to see 3rd dimension for one - and the blob effect is unique and pleasant. This effect applies mainly to your character - a strange blue figure with a human-like shape - and to other heroes (different kinds of blobs). Interestingly, many attacks also use this technique - meaning various colored blobs flying around. Sometimes they merge smoothly into one, just to split a moment later - quite a lovely view.
Unfortunately, aside from this effect, there's not much more to see. Enemies are just plain 3d stickmen, sometimes with gear, sometimes in the form of animals - but they quickly become boring as you advance. For the other parts of the 3d world - well, they are almost non-existent. On the other hand, the UI looks pretty plain, flat & cheap - like some generic game assets from a store.
The gameplay here is rather a simplified version of the survivor title. You're thrown into an endless plane, constantly being surrounded by weaves of enemies. Killed foes drop exp crystals, so you can level up and get/upgrade one of the skills - split into active & passive. Options are relatively standard - some projectiles, auras, chain lightning, tornado, etc. Running around, you'll be able to find healing items, magnets, bombs, and even chests with free skill. If you survive long enough, some boss monster will appear, casting long-range attacks, spawning minions, etc.
Outside battle, you'll see screens well-known from many casual titles - equip, random perks, chests, etc. As always, you'll need to get better gear, fuse, or upgrade existing ones to stand a chance against increasingly stronger enemies. You can even select between swords, bows, and staffs.. although this doesn't mean much. There's also a hero selection screen, rewarding you with various boosts for upgrading your blobs.
Not many titles decide to disturb players with ads during a round - and there's a reason for this. Blob Hero not only displays banners all the time, not only offers bonuses after watching videos: if you reject the offer, they'll show you one anyway. That could be multiple forced ads during a few minutes - and the game becomes unplayable if you don't want to lose out, watching everything.
Last update: game added to overtap: 6 Oct 2022 06:10
No updates seen yet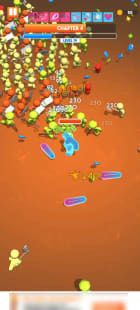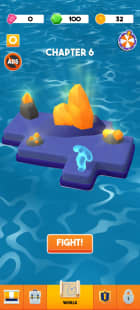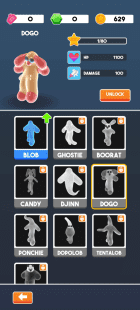 Resources
Shared by others