Brawlhalla
Developer
Blue Mammoth Games
graphics
Brand

Teenage Mutant Ninja Turtles, Street Fighter, Steven Universe, Shovel Knight, Rivals of Aether, Rayman, Kung Fu Panda, Hellboy, Guilty Gear, G.I. Joe, Ben 10, Adventure Time
Theme

norse mythology
artists

James Gilbert, Lea Faske, Vince Medellin
fully animated 2d characters
camera

side
graphic style

2d outlined vector
perspective

2d
show more
monetization
DLC
show more
technical
PC/console/browser cross-play
server / region selection
show more
social
pose/dance
obtainable emoji
show more
controls
Controller support
show more
Brand
Teenage Mutant Ninja Turtles, Street Fighter, Steven Universe, Shovel Knight, Rivals of Aether, Rayman, Kung Fu Panda, Hellboy, Guilty Gear, G.I. Joe, Ben 10, Adventure Time
artists
James Gilbert, Lea Faske, Vince Medellin
PC/console/browser cross-play
Description
Brawlhalla is a popular free indie 2d platform brawler available for PC, consoles, and mobile. At the core, it is similar to a famous Nintendo Super Smash Bros series - fight as long as someone drops off-screen.
In terms of aesthetics, you can feel some indie/old-school vibe of 90's PC/flash games. Characters are drawn using somewhat simple, outlined vectors - with disproportionally large heads & weapons. Yet, when you look closer, there's a unique, detailed design behind each one - brutal warriors, superheroes, magicians, archers, and a ton of human-like creatures. What's more, there's a serious choice of skins & colors for each one - including crossovers.
Those crossovers include an incredible number of characters well known from other universes - and there's a huge chance you'll find some of your favorites there. From other games - like Shovel Knight or Tomb Raider to popular movies & shows - like Adventure Time, Kung-Fu Panda, or TWD - there's too much to list.
What's more, this stunning choice is just a part of the cosmetics system in Brawlhalla. You can change the skin for each weapon, select the KO effect, switch the podium you'll stand on when the game ends, and style your sidekick - not to mention emotes or avatars.
Aside from characters, the 2d battle effects are also top-tier - it's hard to get enough of the view of the enemy sent airborne with crazy power/speed. That action will take place on some beautifully-painted backgrounds - some epic scenes from Norse mythology (presumably).
The gameplay is just about hitting each other - to the moment someone will land a hit that sends the enemy off the platform. That's not an easy task, as each hero can do several jumps, even mid-air, perform an aerial attack or climb the sides of the map. To make this easier, weapons will sometimes appear on the map - and taking them will equip you with one of 2 dedicated gears and new possibilities and skills.
Those tules and mechanics can be used in various modes - simple like PvP limited by time/lives, but also more creative ones, like Brawlball or PvE "Walker Attack". Overall, the game gives you much freedom of creating rooms with custom rules, public or for fiends- even play offline. As mentioned before, others can join from any console or PC, but there's also excellent controller support for Android\iOS. At the same time, Brawlhalla lack such an essential feature as a friend list.
You don't need to level up anything to play; there's no rune system for power-ups. You might want to unlock more heroes by playing - or there's a DLC-like option to get all at once. Then, you are free to grab all the cosmetics from the in-game shop - or purchase a season pass.
Last update: 14 Aug 2022 06:08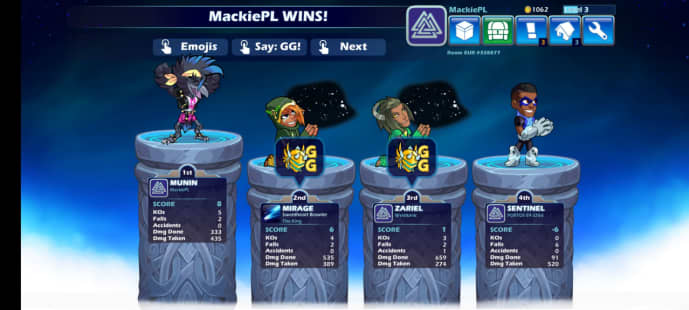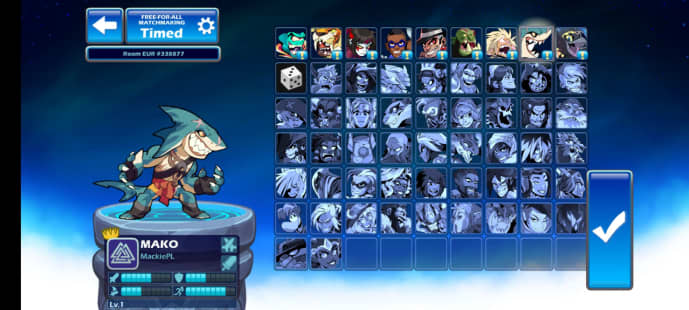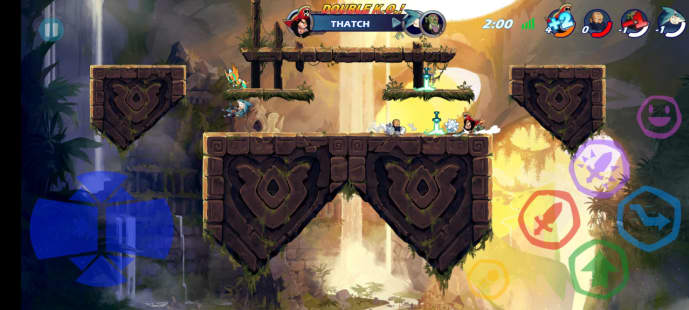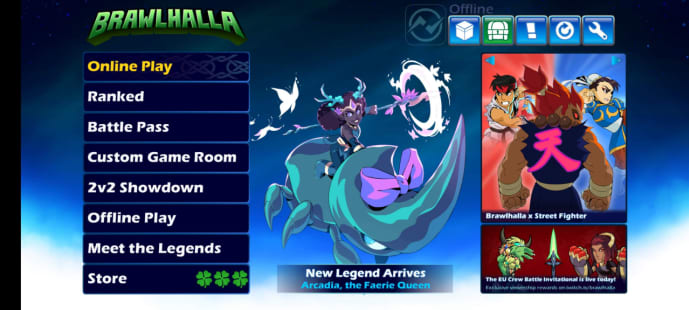 Resources
Main
Shared by others