Casual sim
world layout

square
single limited storage
show more
graphics
Theme

farm
show more
monetization
gacha / chests
premium currency
ads amount

tons of ads
show more
details
Permissions count

8
Minimum Android version

9
release date

13 Jun 2021
App size (memory used)

302
show more
technical
graphics quality selection
show more
Description
Buildy Island is yet another of those "hyper-casual" simulation games, where you just build your little world by simply running around. Here, the running is simply farm-themed.
In terms of aesthetics, this game looks just like any other title of this kind. Characters (although there are not many) are mostly single-colored, faceless, human-shaped blobs. The only nice thing here is a pile of resources growing at the back. The environment is even simpler - it looks just like a few gigantic cubes thrown in the water (but ground textures aren't that bad). At the same time, most objects, like rocks and trees - although low-poly - can look good, especially as every hit is reflected, gg. in a shrinking rock pile.
The gameplay is as simple and casual as it might get. Just get near a tree - you cut a tree - and collect wood. Then go to the given tile to drop the wood until you build something eventually. Soon, you'll be able to get some fields and animals. Then, little farming begins - run through fields to scythe it, bring what you got to those creatures, and wait for produce. This way, you'll get gold - a vital resource for opening new areas & progressing. This means opening bridges, new buildings, and lands and portals - letting you see some new surroundings (and get new types of items).
That's basically it besides the fact that everywhere you go, there'll be some ads. Want better ax? Watch an ad. Want a cute pet, a pile of money, or anything? Watch an ad. There's even a video offer for finishing unfinished work - and yes, forced ads too.
Last update: 13 Aug 2022 15:08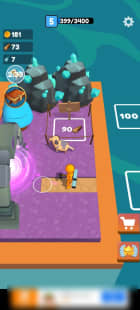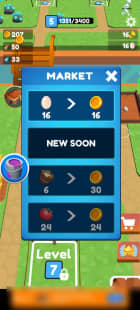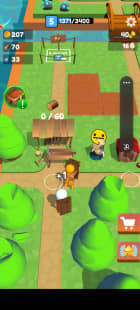 Resources
Shared by others