graphics
camera

other /none
artists

JohnnyD
Theme

fantasy
show more
RPG
battle mechanics

match 3
titan assistance system
show more
technical
AR support
show more
gameplay
bluetooth PVP
hot-seat PVP
show more
monetization
misleading advertising
ads amount

little ads
show more
social
photo avatar
show more
Description
Call of Antia is a mobile fantasy-themed match-3 hero-collecting RPG. Despite some claims, it's far from being innovative - but it's finely crafted - and might be worth trying.
For such a static kind of game, it is surprising - and refreshing - that your screen seems pretty lively. To achieve this, Call of Antia uses a clever mix of 2d and 3d graphics. During adventures, you'll automatically walk through pleasant, stylized 3d environments. Still, enemies that'll appear will be 2s fully-animated pieces of art - so convincing you cannot tell them apart from the 3d world. On top of this, many special effects are 3d - like swords or bows flying in the air - making things even more immersive.
There's also the base screen - your castle - a single 2d art with tens of moving elements - and a 3d dragon flying above! It's worth noting that heroes here - along with stunning animation & variety - are also fully voiced, and each comes with a separate story.
The gameplay is basically what you might expect from a match-3 RPG. You're given a board with colored tiles - where colors correspond to attach elements. After clearing some blocks, an attack will be launched forwards, and a hero of this color will gather mana. After being fully charged, you can tap the portrait to launch a special attack - and there's a dragon button working similarly. Also, as in many match-3, destroying larger blocks will reward you with special bomb blocks - and it's also worth going for combos. Luckily, to prevent boredom, many new mechanics are being introduced over time - like counters, transformations, precision strikes, etc.
The story running along with those fights is well told (and voiced), and there are even mini-games - clearing unique tiles to push things forwards.
Aside from the scenario, expect a classic collection of features well-known from thousands of mobile RPGs - PvP, tower, boss challenges, and journey mode. Also, there's a dragon (plus dragon-master) system with its own upgrades - but there's a chance you've seen such systems before.
Like many similar games, Call of Antia increasingly relies on P2W in the end-game - but you're perfectly fine to start playing it for free. The main place to spend money is, of course, gacha, yet there are also passes, a subscription system, and some ads to watch.
Last update: game added to overtap: 13 Dec 2022 19:12
No updates seen yet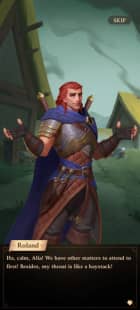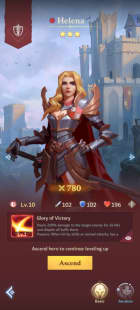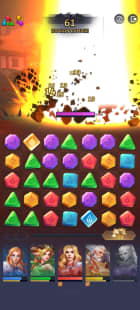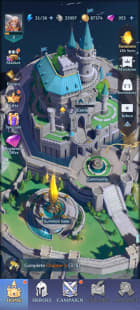 Resources
Main
Shared by others