graphics
Theme

science fantasy
camera

other /none
graphic style

2d outlined vector
show more
monetization
reward ads
ads amount

little ads
In-App Purchases
show more
controls
orientation

vertical
details
release date

11 Aug 2021
App size (in market)

172
Minimum Android version

6
show more
technical
sign in methods (Android)

Google
show more
Description
Cards of Terra is a single-player puzzle-card game with a simple monetization scheme and quick, addictive rounds. You'll need to help the alien princess rescue her fiends from orcs and ghosts - mainly by dragging cards across your board.
You shouldn't expect beautiful animations, explosive effects, and voiced characters as it's an indie game. Indeed, you're welcomed by rather a simple menu with just a pack of options. Yet, as you go deeper, there'll be not only some nice backgrounds but also surprisingly detailed cards/characters. Outlined and shaded, they got their personalities and emotions clearly painted - like clueless, stupid, or angry. Additionally, each card got a short, funny description so you can better immerse yourself in their little world. Also, with overall simplicity, it's nice that the princess floating over the board responds to your actions.
The main goal in Cards Of Terra is - interestingly - getting rid of cards you're controlling. This alone would put the game next to simple solitaire - if the cards didn't look (and work) more like in CCG. Each one got a single stat - power - and one of a few colors (blue for humans, etc.). You can drag one on top of another to start a fight - and they'll lose the power until one (or both) are defeated - just simply subtracting numbers. As you pass some levels - things will quickly get much more complex as cards get more and more abilities. There'll be a tree growing every turn, a ghost that disappears every turn, or an archer firing his little arrow randomly every time. Some of them can significantly help clear the board faster, while others will add randomness or disturb your actions somehow.
The gameplay is split into several modes - campaign (main one), draft and puzzle challenges. The first one will require you to get rid of cards blocking your captured friends and do this within a limited number of moves. To make things even more interesting, those moves are your energy - not just a number - and can be used to damage a creature directly.
Those rounds can be completed in several ways to fit the given limit. For even more challenging battles - requiring more precision - you can try puzzle mode - to win there, you'll need to clear the board entirely. Those 2 modes are pre-defined challenges with limited randomness. Still, fortunately, you can also play the draft mode - building different collections every time.
Cards of Terra will sometimes show you forced ad - but with a straightforward way to purchase a no-ads upgrade. Aside from this, you won't see any IAPs, reward ads, or other monetization techniques.
Last update: 15 Aug 2022 04:08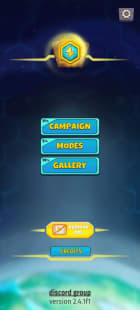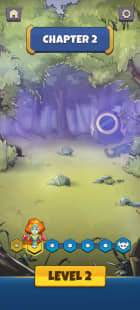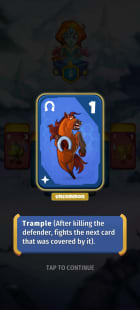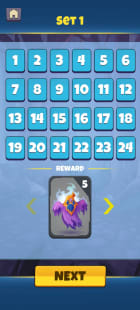 Resources
Main
Shared by others