Base Defense
unit types

24
spell types

12
show more
graphics
Theme

fantasy
camera

isometric
graphic style

prerendered 3d
show more
RTS
default builders

2
non-money resources no

2
show more
monetization
gacha / chests
show more
technical
sign in methods (Android)

Google, Facebook, Guest / none
graphics quality selection
show more
controls
orientation

vertical
show more
Description
Clash of Clans is one of the most popular mobile games in history, with hundreds of millions of downloads, the esports scene, and years of updates. It's a free "base defense" strategy game that lets players build - preparing their defenses or attack - trying to outsmart the enemy layout.
Building / defending is based on a few resources - gold, elixir, and eventually dark elixir. There are building for producing and storing those materials - upgrading and getting new ones will enlarge the available pool and add some idle income. The game will generously give you 2 builders at the beginning - and you might want to get even more, as constructions can take severe amounts of time. There are also many building and their upgrades oriented at building troops - from barracks and camp to structures summoning unique heroes. Yet, the most important one is Town Hall - its level affects available structures/upgrades and other game aspects.
Obviously, if you want to keep your resources from enemies, you'll need to add defense structures. Towers are the foundation - they differ in power, range, targeting, and area of effect. Also, to stop marching foes, you'll need to set p (and upgrade) walls around (and inside) base and possibly add some traps in-between.
The second main activity is attacking. You'll need to start with recruiting units - tanks, nukers, or multi-purpose brawlers. Then, find a reasonable target (preferably with lots of resources and weak defense), or just play PvE. You'll have control over deployment positions and timing, but once you send troops to battle - you can only sit and watch (and cast a spell sometimes). The best result is always a total obliteration. Still, this won't always be possible due to running time and defenses - you'll need to target as high destruction percentage as possible. Aside from standard units - lost when deployed - you'll be able to unlock upgradable heroes that not only could turn the tides of battle but are also immortal.
Clash of clans offers more than simply defending and attacking. There's a season challenge system, allowing you to get resources and cosmetic skins for your champions. The clan system is robust here - it enables sharing units and clan wars with many players involved or clan games to work toward a common goal.
The game is free and won't show you any ads. There's also no gacha system, but you might want to get some extra resources or premium currency - for example, to shield yourself from attacks.
Last update: 12 Aug 2022 02:08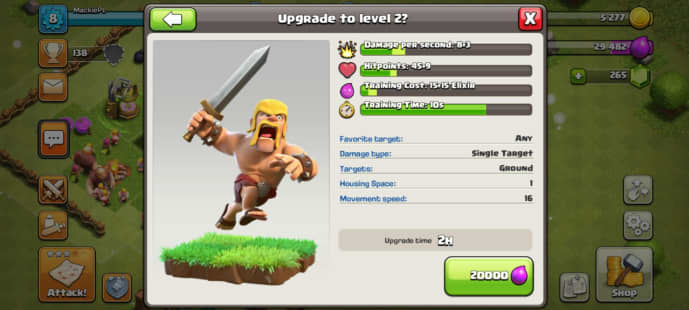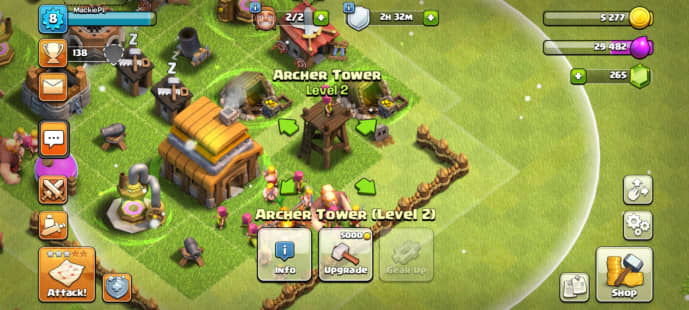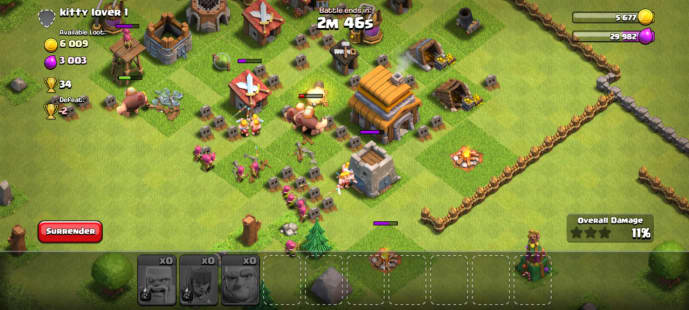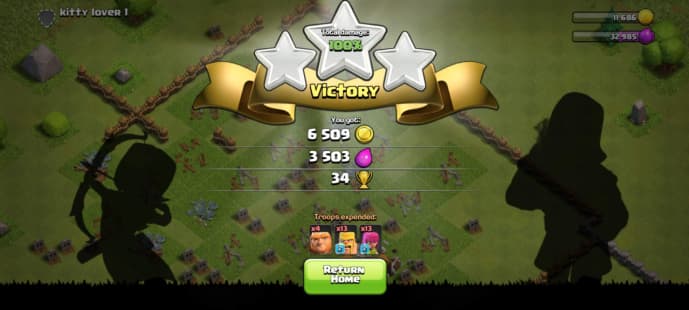 Resources
Main
Shared by others