Tower Rush
cards no

107
tower lanes

2
show more
graphics
Theme

fantasy
graphic style

prerendered 3d
camera

isometric
show more
technical
sign in methods (Android)

Google, Guest / none, Other account
FPS selection
show more
controls
orientation

vertical
show more
monetization
ads amount

no ads
show more
social
quickchat
show more
gameplay
leagues
show more
sign in methods (Android)
Google, Guest / none, Other account
Description
Clash Royale is a mobile PvP-oriented strategy game of a genre called "tower rush" - and one of the most successful titles in mobile gaming history. Published by Supercell, the developer known for Clash of Clans and Brawl Stars, it not only amassed hundreds of millions of downloads but also captured gamers' interest for years and spawned its own E-sports scene.
It's all thanks to a mix of strategy, dynamic gameplay, quick rounds - and a mobile-friendly vertical format. The gameplay is easy to grasp in just a few minutes, and constantly added cards with new mechanics keep the game fresh.
The goal is to destroy the enemy's base - or destroy more than your opponent after a few minutes - as there are also 2 towers for each side. You can do this mainly by spawning units from one of the available cards - using a constantly refilling mana pool. They'll march one of 2 lanes and clash with enemy units - or try to attack defense structures. From the very beginning, you'll have some choice to try to adjust tactics to the battlefield. There'll be slow, durable units, the ones with high attack, some shooters to provide firepower from back lines - even spells to deal damage directly. Then, tens of new cards will bring hundreds of new strategies - like the ones spawning minions (including buildings), dealing splash damage, or moving in a particular way.
Unsurprisingly, the basic mode got some variations and additional features after years of success. You can play 2v2 and 1v1, join a fight where bases are replaced by giant safes or balloons are dropping bombs, there's a clan war system, events, and tournaments. To complete your collection, you'll also be able to use battle pass and journey rewards systems - along with some vanity stuff like emotes or skins.
In terms of visuals, Clash Royale uses colorful pre-rendered 3d graphics, an isometric view filling the whole vertical screen, and a fantasy theme with a bit of steampunk (and humor). You can expect not only goblins, mages, and skeletons but also some crazy machinery, warriors in barrels, and raging battle hogs.
You won't be forced to watch any ads to play Clash Royale, but your progress will depend on loot boxes, as in many other titles. Those boxes can be bought using the premium currency, obtained as a battle pass reward - but most likely, you'll need to wait hours for them to open.
Last update: 13 Aug 2022 19:08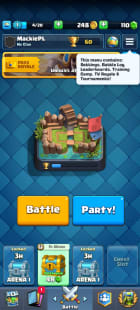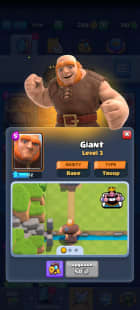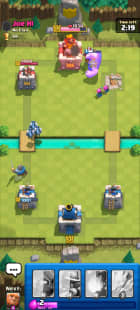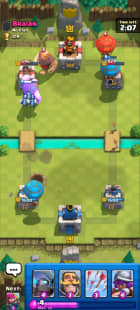 Resources
Main
Shared by others