Run-or-shoot
smooth transition between rooms
show more
graphics
Theme

wild west
camera

isometric
show more
Casual RPG
journey mode
permanent upgrade system

random stat purchase
offline earnings
show more
technical
FPS selection
sign in methods (Android)

Google, Guest / none
show more
gameplay
online events
show more
Roguelike
multiple heroes
show more
monetization
ads amount

many ads
show more
Description
Crack Shooter is another run-or-shoot Archero-inspired mobile game, this time loosely using the wild-west theme.
In terms of aesthetics, it's not much different from numerous similar titles. You'll be looking at isometric arenas, perfectly fitting screen width most of the time. The nice part here is that - after defeating all enemies - you won't just enter the gate but smoothly, seamlessly move to the following area above.
Both characters and enemies are stylized 3d objects, fun and colorful. There'll be gunslingers, Native Americans, and some traditional Mexican heroes - but also a vampire. Surprisingly, many other elements won't fit these wild-west heroes - not only various fantasy enemies. You'll be able to equip not only traditional guns but also giant microphones or rubber chicken. Also, the environments vary enormously - from ancient pyramids to dragon caves.
At the same time, the UI is crowded and filled with features and promotions, but it turns out to be pretty clear and readable.
The gameplay here most likely won't surprise you - it follows precisely the same rules as Archero and many others. You'll shoot the closest enemy while staying idle, then need to move to avoid getting hit and then repeat. The game consists of runs - at the beginning, you select an ability from a set or random ones, then level up by kills to get more perks. So, you'll be shooting not only stronger & faster but also with additional effects, multiple bullets at once, or orbs circling around. The base fire type depends on the selected weapon - and there's also a pet to help you fight a little. As always, there'll be a boss with a large HP pool and a pattern of powerful attacks every few stages. The unusual thing here is that every hero has a powerful special skill, charged with regular attacks.
After you finish a battle, you'll get a chance to spend the loot on becoming stronger. First of all, you can spend money on traditional random permanent upgrades like more HP, heal or stat multiplier. Another usual element is the equipment system - the gear you'll be getting will come in different grades - and they can be upgraded or even fused. Also, you'll be getting hero and pet shards, allowing you to unlock not only new visuals but also active/passive abilities.
To get more of the required items, you can participate in one of many challenges and unlock a "quick raid" to quickly spend energy for loot. There's even an easier option to do that - the game will reward you with some idle rewards just for logging in.
As in every such title, you'll get plenty of opportunities to watch ads for rewards - but luckily, it's not too intrusive. There's also a season pass with a premium option and an in-game store with various chests & stuff.
Last update: 23 Oct 2022 21:10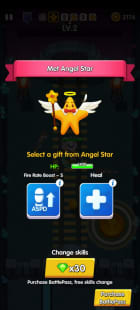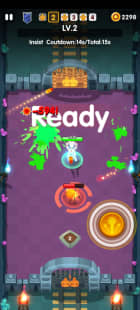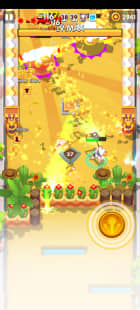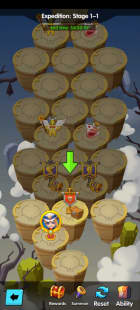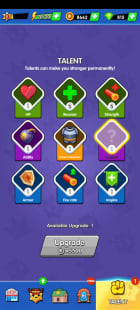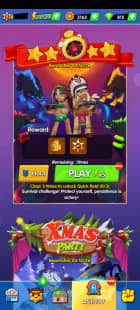 Resources
Shared by others