Tower Defense
send on mission
max game speed

2
show more
Tower Defense, Strategy
autoplay

with tickets/items only
graphics
artists

Tuula Rantala
Theme

fantasy
graphic style

outlines simple vector / doodle
show more
monetization
Play-to-Earn
show more
controls
orientation

horizontal
show more
gameplay
online (PVP)
online (co-op/PVE)
show more
technical
sign in methods (Android)

Google, Guest / none, Other account
show more
Description
Crazy Defense Heroes is a mix of traditional, fixed-position Tower Defense and a gacha game - with lots of strategy in it - but lots of collecting/upgrading too.
The game uses some very simple, outlined vector graphics with some basic shadows and simple animations. Many objects are composed of just a few colors, without many visible features - you can barely see the characters' faces. Yet, the vast amount of elements smoothly rendered on the screen is impressive - and composes quite a view. Most of the time, it'll be hard to find 2 precisely the same objects - and you won't have too much time to look as enemies keep coming & dying.
The same style is used for game UI - cards, items, features & others - it all looks simple, kind of doodle-like, but eventually turns out to be nice & clean.
The game plays basically like traditional TD with fixed tower positions. There are one or many spawn points, one or many enemy goals we need to defend, and some paths between them. Along the trails, there will be several spots we can fill with towers - but only the ones we previously unlocked & added to the deck. After placing, we can still invest some gold to buy upgrades for a given stat, depending on tower card level.
Still, towers are just one of 4 card "types" - along with spells, heroes, and gears. Spells - for example, meteor or arrow shower - can be actively cast in the right moment/place to help deal with powerful foes. Heroes are somehow a middle ground between the previous 2 types - they can be placed anywhere, attack and stop some enemies, and can also be ordered to move.
They all cost gold to bring to battle - you'll need to earn it during a fight by killing some enemies (or speeding-up wave). You're also limited in slots shared between all card types, so you need to choose wisely. The only defense element that doesn't need gold or slot is your main hero - he'll always be there (unless killed) and can be equipped to make him stronger.
The campaign consists of a series of battles grouped by continent/environment. Winning them - especially with a maximum star rating (no lives lost) will mean some reward chests - chances for valuable cards. Fights can be speed-up and automated with tickets, and they unlock "scavenge" options to directly spend energy on resources. There are also raids for specific resources, quests, and idle missions. All of this to get more cards - or upgrade existing ones, to challenge stronger enemies. Unsurprisingly, there's also a guild system with its own quests, challenges, donations - and occasional events with leaderboards.
You can watch an ad for an additional chest or energy boost from time to time. There's also a rich in-game store with subscriptions and a VIP system. Also, the game creators have experimented lately with the Play-to-earn scheme.
Last update: 16 Aug 2022 04:08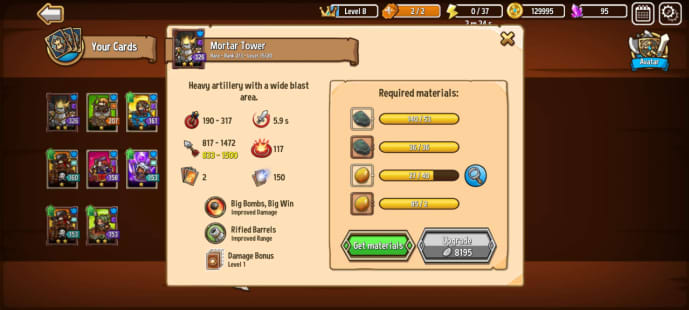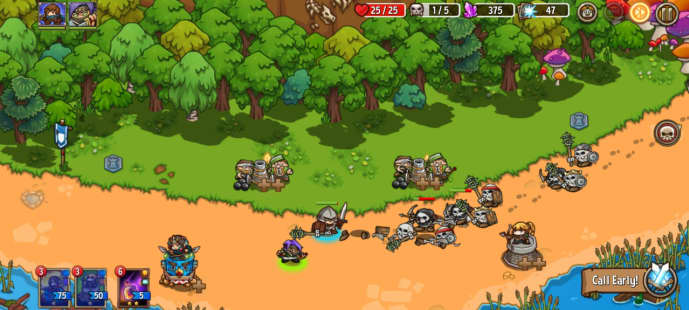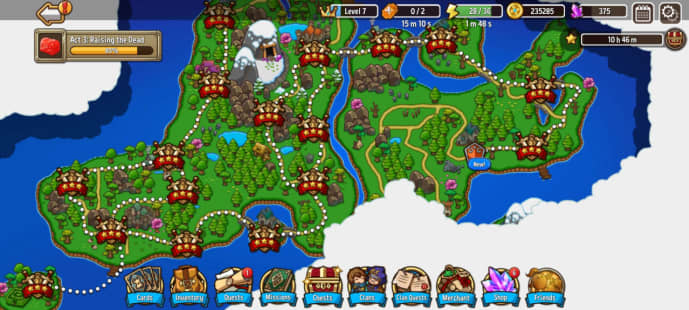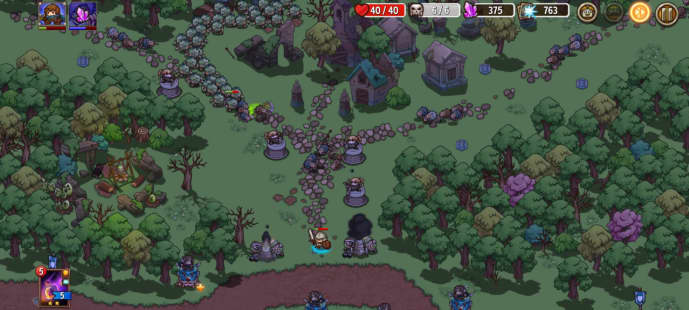 Resources
Main
Shared by others