Run-or-shoot
active skills
show more
graphics
Theme

cyberpunk
graphic style

simple 3d
camera

isometric
show more
details
release date

14 Jun 2021
Permissions count

8
show more
monetization
ads amount

many ads
gacha / chests
show more
technical
graphics quality selection
show more
gameplay
online leaderboard
show more
controls
orientation

vertical
show more
graphics quality selection
Description
Cyberpunk Hero is a new run-or-shoot mobile game set in a recently popular cyberpunk theme.
Game graphics is mostly 3d, with the usual isometric camera fitting the whole battle scene width. Heroes - as well as enemies - are third-dimensional models - quite unusual ones. Contrary to recent graphical trends, instead of stylized/hand-painted textures, you'll see some round/shiny shapes with plain colors and shadows. That brings a bit of an old-school vibe, resembling some 90s 3d art.
It all plays well with the cyberpunk theme - manifesting mainly in level design. You can expect dark, dirty, concrete streets, glowing neons, advertisements, graffiti, and strange machinery here and there. Unfortunately, it's pretty static and gets repeatable over time. Fortunately, visual effects are smooth, colorful, and pleasant to watch - especially view-distorting skills.
In terms of gameplay, Cyberpunk Hero won't surprise anyone that played Archero or a similar title even once. You'll have to shoot enemies while standing or running from bullets using one-hand controls. The campaign is split into 50 (or less) stage runs with boss enemies from time to time. To keep up with increasingly stronger enemies, you'll earn levels during each run, getting a chance to choose from 3 random rewards each time. Both monsters and skills aren't very innovative - they use the same effects/patterns as always - just cyberpunk-themed.
After a run, you'll get some loot and the standard set of options. You'll be able to invest money in a random, permanent upgrade. There's also a way to change equipment, upgrade it, or fuse 3 old gears into a better one. Also, there's a way to switch the female cyborg hero to another character, getting some permanent bonus.
As always those games, you'll have plenty of chances to watch an ad or spend premium currency. Getting additional skills, reviving after defeat, getting extra chests - not to mention premium battle pass.
Last update: 11 Aug 2022 23:08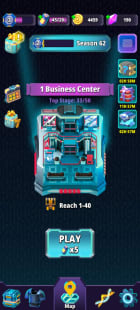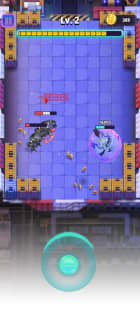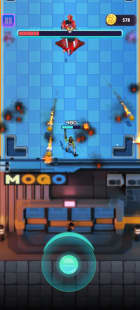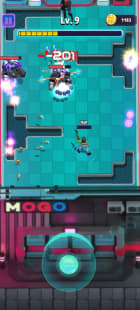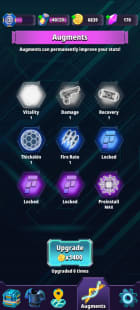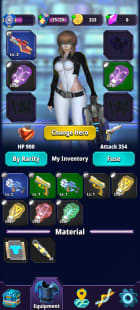 Resources
Main
Shared by others