Defense War: Destiny Child
graphics
Theme

demons
camera

top-down
graphic style

anime
artists

KKuem
fully animated 2d characters
show more
monetization
gacha / chests
chest opening waiting period
show more
Tower Defense
tower types

77
show more
social
friend list
show more
details
release date

23 Nov 2020
show more
gameplay
leagues
show more
Description
Defense War: Destiny Child is a free mobile random defense game. It's a spin-off of popular Gacha RPG Destiny Child, sharing the same word and many characters.
Sharing graphical assets with such a title guarantees that the character's design is beyond the ordinary. While skipping voice acting and removing the most revealing characters and costumes, DW: DC still offers fully animated, interactive 2d arts for every unit. A simple distinction was used there - "Archfiend candidates" were used as heroes/commanders, and the "children" (including "hearts") make regular towers. While all characters are presented as simple 3d chibi models during the match, most elements are 2d, including detailed boards/backgrounds.
Defense War offers what you may expect from a solid random defense title when it comes to gameplay. Select 5 "children" before the round, so you could spawn them randomly spending energy and get that energy back by killing minions. Additionally, you may merge 2 same units to get a random higher grade, upgrade the type of units or fire active skills. As you're getting stronger, so are minions, but to make things more exciting, the boss will appear from time to time, casting random debuffs. In co-op mode, two players do the same, defending the one gate, but killing minions makes them spawn at the enemy's lane in the duel.
The crucial factor for victory is what you do outside the match - the team composition. Each unit got not only stats but also unique behavior and special effects. Some attack first minion, other targets randomly, some casts slow while others gain power over time. Choosing the best synergies - including matching commander - is key to victory in duels and long defense in co-op.
Getting the winning team will take some time. Units are getting available with progress, and upgrades require duplicate fragments. This could be unlocked during play, but chests need some time to open. Aside from units, there are additional emojis (usable during the match) and backgrounds to unlock.
Defense War: Destiny Child luckily don't force ads, and there is no pressure to watch too many of them. Instead, you can spend some money on packs or premium currency, and there is a familiar "Devil Pass" system.
Last update: 15 Aug 2022 21:08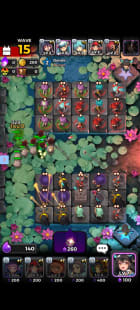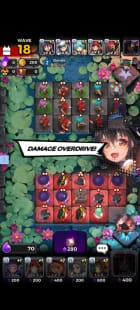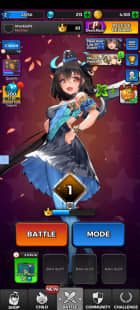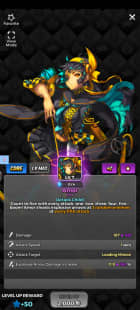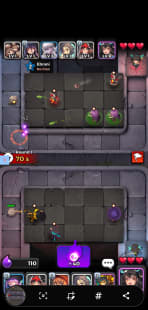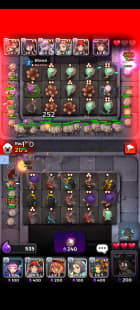 Resources
Main
Shared by others