Vertical incremental clicker
worlds / industries

6
show more
graphics
Theme

apocalypse
camera

side
artists

Cory Mathis
voice acting
graphic style

2d outlined vector
show more
gameplay
walkable lobby
online leaderboard
online events
playable offline
show more
monetization
forced ads
show more
Description
Doomsday Clicker is a popular, quality incremental game about an evil protagonist bringing apocalypse to humankind. Your job will be to build shelter, gather survivors, eradicate them again, build an army of mutants, and repeat even stronger.
The game surprisingly well combines simplicity with quality when it comes to aesthetics. The bunkers are plain 2d backgrounds, one on top of another, with outsides at the very top. Still, there's a nice parallax effect when scrolling, and upgrading those rooms changes its look. Some elements are even slightly animated - like humans living there. They are tiny, funnily doing their jobs, and clicking them fires some squeaky voice lines.
The quality shows even in minor, often overlooked UI elements. Bonus/Mutants screens are a kind of art themselves, and after clicking the doomsday button, you'll see some unique animations. That could be aliens, locusts, or many others.
The gameplay is as simple as in other similar vertical clickers - or even simpler. You just activate a room/level, and it starts generating income. Upgrading the existing one also brings more money per second. Going to a new area means simply another set of similar rooms, but with a bigger multiplier. There's also a single upgrades screen, where you can spend money to upgrade one type of room - or all of them at once.
The crucial part is a mutant screen - it allows to see the mutant count, buy mutant upgrades - or start apocalypse to get new ones (and a huge boost). Aside from this, there's a mini-gacha where you can spend premium currency for special mutants with extra permanent perks.
There's already a lot of clicking here, but you can tap even more to earn more. There'll be hostile mutants on the surface, waiting to be squashed. Sometimes, you'll need to help residents by getting rid of spiders or extinguishing a fire.
Monetization in Doomsday Clicker combines lots of ads with some moderation. You can watch an ad to multiply offline gains.. but not every time. Also, you can tap the drone to get a temporary multiplier.. but it's not always available. Finally, many vital upgrades require premium currency, but they're also reasonably easily obtainable for free.
Last update: 11 Aug 2022 00:08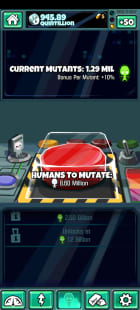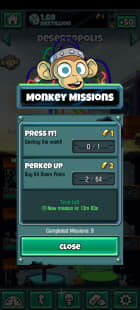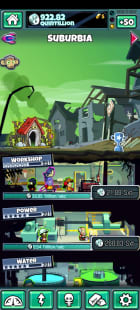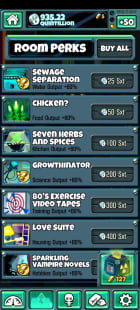 Resources
Main
Shared by others