graphics
Theme

wild west
camera

isometric
show more
Casual RPG
permanent upgrade system

collection / relic system
offline earnings
show more
monetization
chest opening waiting period
ads amount

many ads
show more
Roguelike
No of heroes

16
show more
technical
sign in methods (Android)

Google
graphics quality selection
show more
details
Permissions count

14
show more
gameplay
online leaderboard
show more
permanent upgrade system
collection / relic system
chest opening waiting period
Description
Genius Shooter is another example of a casual roguelike shooter, just like Archero and many others. Still, because of a few interesting mechanics, it's a title you might actually want to try.
Aesthetics here is somehow strange & unlikely. The UI, background music, the first map, and the first hero hint strongly at the Wild West theme - but it's not a whole story. Most enemies you'll meet will be zombies of some kind - undead nurses, builders, or soldiers - and there are also ultra-cute animals, like bunnies firing carrots. Overall, the game is heavily stylized, colorful, and has the feeling of most similar titles. It uses pre-rendered 3d isometric backgrounds - and fully 3d characters and skills. Also, the visual effect looks exactly like they should - bright, glowing, exploding & splashy - while being smooth.
The core is just like every other run-or-shoot title in terms of gameplay. You start a stage of 50-or-some rounds with occasional bosses. As you kill enemies, you'll level up, getting new random skills each time - like burning bullets or increased attack speed. There are less-known types, like "standstill to get a bonus" or "bonus at the beginning of round" or "bonus scaled with level". Yet, if you want to change attack type - even something like split bullets - you'll need to get one of the additional heroes. They all got pros and cons - and with 16 of them, you'll have some choice of the playstyles.
Aside from this, Genius Shooter has a standard equipment system - you can drop - and then put on - gears in various categories, graded by rarity. Also, you can upgrade it, merge it into a better one, on "smelt" for resources. That's the typical part - but instead of well-known gold random upgrades - there's something more interesting in place - or even 2 things. Sometimes, you'll be able to drop "collection items" - put them in the collection, and then upgrade with gold to get fixed collection bonuses. Also, some resources will allow you to craft a "super weapon" - an equipable item that - aside from bonus stats - adds skill you can cast from time to time.
To get those resources, items & gold, you're offered a wide range of challenges - including those with online leaderboards. Also, each stage comes with a normal & epic mode - but also an "endless" one.
Like in every one of those games, there are many chances to watch an ad for a small reward. Fortunately, no ads are forced, and existing ones feel rewarding enough - or not too intrusive. Alternatively, you can get one of the various offers from the store - or a premium pass.
Last update: 11 Aug 2022 22:08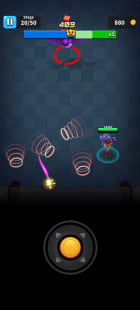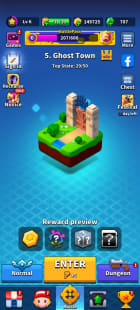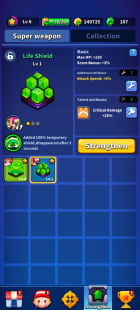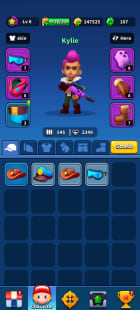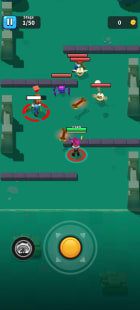 Resources
Main
Shared by others