graphics
Theme

zombies
graphic style

pixel art
camera

side
show more
Idle
complete quests to advance
offline gains limit

none
restart mechanics

none
skins / costumes for characters / vehicles
collection system
show more
technical
graphics quality selection
FPS selection
show more
monetization
ads amount

many ads
show more
complete quests to advance
Description
Grow Survivor is a pixel-art idle clicker with lots of looting - and no offline gains.
90 percent of the time, you'll be seeing the same screen playing this game. One zombie is hopelessly trying to force the gate - and one or more heroes are continuously shooting it. Fortunately, there's some variety to it. Gradually, you'll unlock more sceneries and new types of enemies - like ninja zombies, mutants, or aliens. Also, the heroes fighting against undead hordes will change depending on your progress. You'll start as "JO" - a survivor in a leather jacket - but quickly discover playable pirates, skeletons.. or a duck in glasses.
All of this is presented using strongly pixelated, quality pixel art graphics. In this approach, elements of different classes appear with pixels of various sizes, depending on dimensions. Backgrounds' pixels are enormous, larger than those of heroes, and the weapons they're holding are even more detailed - to quickly tell them apart. At the same time, lootable items are so small & pixelated that they're hardly recognizable.
The 2d sprites used here generally aren't animated - just some parts are moving, rotating, etc. Fortunately, that's not an issue, as the screen is quite lively anyways - with a rain of bullets, damage numbers flying everywhere, and loot dropping on the ground.
The gameplay means mainly watching your team shoot zombie automatically, killing it, then a new one appears, and so on. To speed this up, you can tap the screen to shoot faster or use active skills from time to time. This way, you can make gold the main currency and drop items assigned to this particular monster. There's even a handy counter for those drops - as they're used for many purposes - crafting guns, defense structures, exchanges, and even permanent true damage.
Overall, there are tons of ways to become stronger and tons of features to support it. With new levels, you'll be getting skill points to shoot slightly better. You can collect characters, merge them for a chance to get a rarer one and use them for both main characters or helpers. You can get new zombies to kill, upgrade structures in your base, buy drones, etc. Above all, many features are bound with collection systems, so there's even more incentive to discover new zombies, weapons, and characters.
Unfortunately, to effectively grow in power, you'll need to watch many ads - like those for free gacha. Alternatively, you can spend premium currency - or pay to get rid of ads.
Last update: 15 Oct 2022 09:10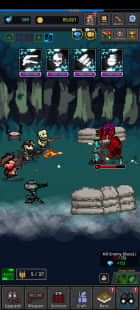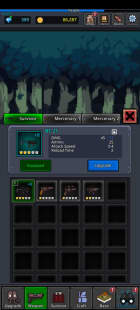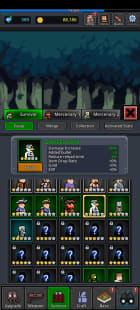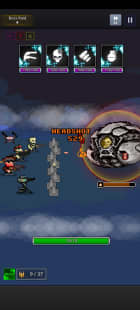 Resources
Shared by others