GUNS UP!
Developer
Valkyrie Entertainment
graphics
Theme

military
artists

Forest Telford
show more
technical
low power mode
sign in methods (Android)

Google, Guest / none, Other account
FPS selection
show more
gameplay
leagues
event calendar
show more
controls
orientation

horizontal
show more
social
play with friends
show more
details
release date

31 Mar 2022
show more
monetization
chest opening waiting period
show more
Description
Guns UP! Mobile is a Base Defense/Strategy game that will let you play as either attacker or defender. Being a close port of PC/Console titles from a renowned developer, you might expect some decent quality - both in visuals and gameplay.
Looking at this game, you'll immediately notice the unique character design - white soldiers without faces (and most fingers). This could resemble a cheap approach popularized recently, to use a blank dummy instead of actual characters - but it's not the case. With quality clothing, shading and modeling, it's more like a conscious design choice that works nicely with a military theme.
The scenes here - basically continuous base & defense structures - are also crafted with great attention to detail. Although you cannot zoom, stylized building & ground textures are far from simplified, with many elements moving, shining & glowing. Similarly, the details are so convincing during the fight that you'll feel every shot - not to mention the grenades and other explosions. Even the UI stands out with quality - they got even the big burning button!
Gameplay is basically a variation of base defense strategy - with additional modes. The primary way to earn resources is to start a raid against another player's base. You'll be able to see defense outlines, select loadout - and then begin the attack. Your commanding truck will face layers of fortifications - walls, bunkers, tents, and cannons. To have a chance, you'll need to use replenishable energy to spawn units - soldiers, medics, snipers, etc. You'll also be able to bring a heavy fighting vehicle onto the battlefield - if you can afford the fuel.
The key to winning will be - aside from strong loadout - perfect timing to summon troops and cast skills. The latter might quickly turn the tide of battle - but uses are limited, and a careless airstrike can be prevented by air defense - just like in real war.
Interestingly, you're not limited to attacking - you can also play as a defender. Your options will be limited (as troops are spawned automatically), but you can still drop some bombs to slow them down (or wipe them out entirely). There are also PVE modes - zombie fight where you'll need to repel waves of undead, or prison break, where you'll earn keys to free additional fighters.
All those modes aren't only for fun - each one yields some other kind of resources - used for different types of boosts. Aside from simple unit upgrades, you can unlock their passive skills, equip them with gear, and upgrade this equipment. There are also abilities & vehicles to boost - and new types to unlock. This is bound with a simple base upgrade system - like getting a better gold mine for more free gold. While this part of the building is uncomplicated, defense construction gives you much more freedom & fun.
Guns Up! for mobiles uses a standard set of monetization techniques for this kind of free game. Your progress is limited by the chests system and tokens replenishable over time. There are no ads, but aside from premium currency, you can buy chests, resources - or additional builders.
Last update: 14 Aug 2022 05:08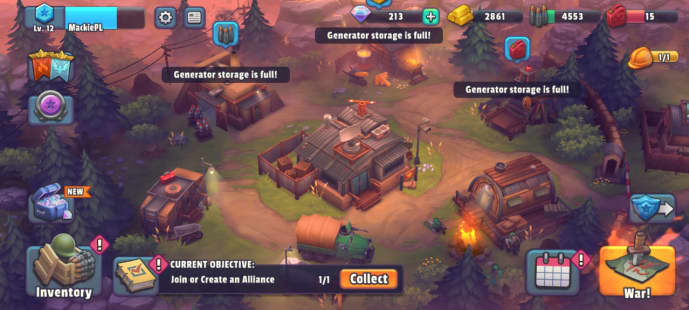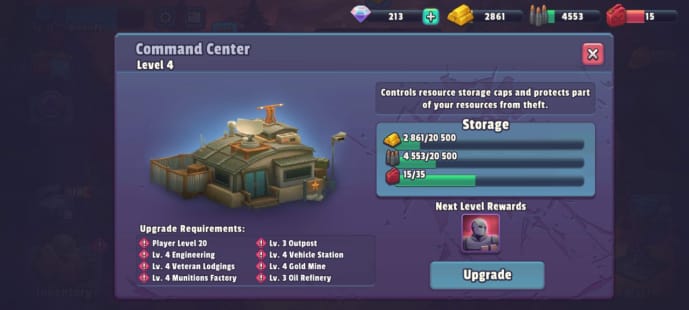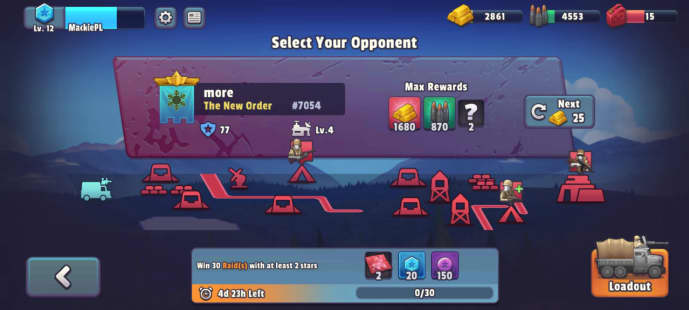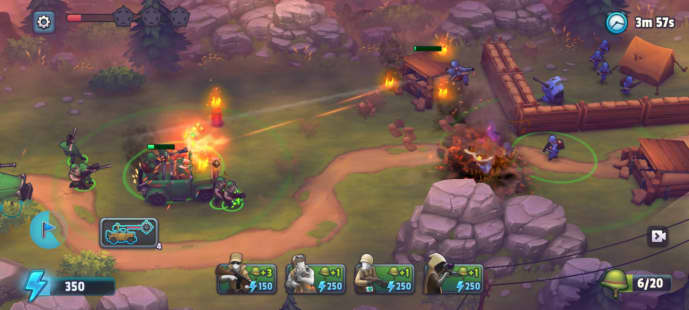 Resources
Main
Shared by others