Run-or-shoot
smooth transition between rooms
show more
graphics
Theme

fantasy
camera

isometric
show more
Casual RPG
permanent upgrade system

none
offline earnings
show more
controls
Controller support
show more
monetization
chest opening waiting period
ads amount

many ads
show more
gameplay
online events
show more
details
release date

18 Aug 2021
show more
technical
sign in methods (Android)

Google, Guest / none
show more
chest opening waiting period
Description
Hero Rush: Adventure RPG is another example of a casual roguelike shooter like Archero and many more. While the theme is just standard fantasy, this title might feel & look so good to be worth trying.
On the first look, it's just like any other game - cute, stylized fantasy characters, cute monsters, overall lots of colors. Yet, some things are just polished more than usual. Typically, between each fight, you need to enter a room. Here, the barrier disappears, and you continue your journey, making things really smooth. Also, before each boss fight, there's a close-up, where you can see every detail of the monster - and usually, you won't be disappointed.
The game is kinda new, so you won't meet a vast number of playable heroes - just 2 archers, 2 mages, and 2 melee fighters. Still, you won't get bored with their looks quickly, as the collected gear will change how your characters look. Of course, the same goes for weapons - and their effects - and even with tens of bullets on the screen, everything looks smooth & clear.
The game plays the same as any other similar title. You need to win a series of fights with a single health bar, defeating bosses from time to time. Enemies will grow stronger each stage, so, fortunately, you'll be able to get a set of skills/power-ups on the way. It's a rather usual selection, like multi-shoot, faster shooting, or enemy explosions on defeat.
After a fight, you'll probably get some gold, tokens, equip & upgrade materials. That means you'll be able to change gears, upgrade them - or rank-up sacrificing other items. Then, tokens can be used to power up the selected hero after it's unlocked/upgraded with special hero shards.
Hero Rush doesn't have tonnes of additional modes - but there's a time-limited boss fight challenge with online leaderboards. You'll be fighting with one giant monster until you deal a specific amount of damage - then you'll get a new skill - and the enemy will get stronger.
There'll be many occasions to watch an ad for reward - to reroll skill, increase loot, etc. You'll also be able to get some chests, premium currency - or premium pass.
Last update: 12 Aug 2022 11:08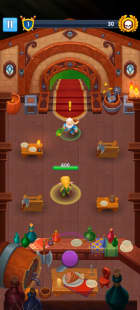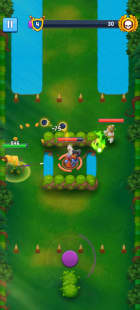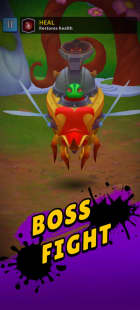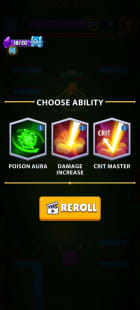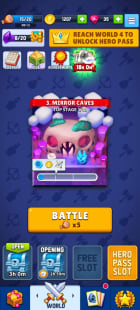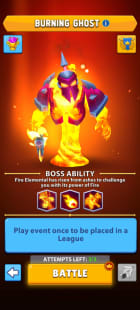 Resources
Shared by others