graphics
music artist

Aaron Krogh
artists

Ækashics
Theme

fantasy
show more
Roguelike
No of heroes

42
show more
monetization
gacha / chests
banner ads
forced ads
show more
details
release date

1 Jan 2021
App size (memory used)

263
show more
controls
Controller support
show more
gameplay
playable offline
show more
Description
Hero's Quest is an indie Roguelite RPG with automatic fights and lots of incremental progress.
Developers without huge budgets & teams need to do their best with what's available - like free assets packages. Here, both monsters & characters are nicely crafted, dynamic fantasy 2d arts. That means some cute slimes, angry animals, but also huge bosses full of spikes & tentacles. Unfortunately, they are not animated in any way - just slightly floating around. That's what you'll be seeing the most time - 2 characters standing next to each other and likable special effects appearing here and there. That's just like in super-old-school RPGs. The rest of the visuals are also heavily inspired by titles published decades ago. On the map/outside fight, characters, enemies & environments are created using pixel-art - somewhat repeatable but not tiled, so scenes look picturesque and lively. UI is also pixelated, bringing back memories of some antique titles - and there are excellent soundtracks in the background.
The gameplay is divided into runs - limited by energy, meaning 20 fights (might be extended by defeating bosses). Your job is to run around & approach an enemy with the right level - high enough to get some exp, but not too high to avoid loss. After the fight, you'll be able to distribute stat points - or you can automate it in a way that fits your playstyle. Then, after running out of energy, you can spend earned gold - or it'll be converted to "tickets" - rare currency. You can get equips & relics with gold, increasing stats by massive amounts. Tickets can be used for things like opening slots - and there's also a skill tree system, with currency gained from killing bosses. Also, with tickets (and real money), you can get new heroes & skins - meaning some passive bonuses - or just new visuals. Also, you can check leaderboards & achievements from the Play Games service.
The game will show ads in several places - reward ones when needed, short forced ones after a run, and even ad banners here and there. If that's a problem, you can purchase no-ads powerup, ad-skip tickets - or just get tickets as if they were premium currency.
Last update: 1 Sep 2022 18:09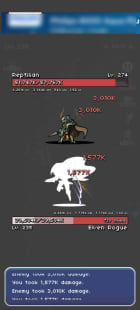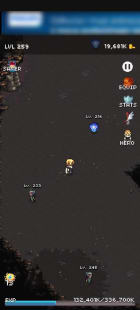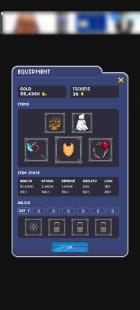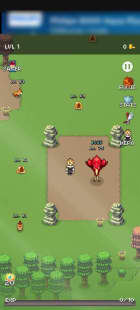 Resources
Main
Shared by others