monetization
ads amount

tons of ads
show more
graphics
graphic style

lowpoly
Theme

fantasy
camera

isometric
show more
gameplay
online leaderboard
online (PVP)
online (co-op/PVE)
PVP focused
show more
technical
low power mode
FPS selection
show more
Strategy
autoplay

with tickets/items only
social
play with friends
show more
Description
Hexapolis: Turn based strategy is an intriguing attempt at combining a casual mobile approach (and heavy monetization) with tactical gameplay.
The game's titular, hexagonal layout corresponds nicely with the low-poly, angular graphics. Everything is shown using this simplified, colorful approach, from tiny fish or rabbits to warriors and whole castles. At the same time, the game's world seems pretty lively - not only are units moving, but you can also see wind moving clouds and plants. It's also lovely to watch how your kingdom grows - including new structures raised and the castles getting bigger and bigger.
The gameplay is split into rounds played against CPU, advancing through new worlds/chapters, as in many casual titles. You start the match with just one small city & one unit. Cities/castles generate money each round, and money is needed to recruit troops, so it's always best to try capturing more cities. Yet, the crucial step to getting there is upgrading existing settlements- which can be done by developing neighborhood tiles. Fishing, collecting fruits, building roads, or raising castles adds some population points, boosting cities and leading to various powerful perks. The last element there is the research system - all the purchases above must be unlocked before - which cots precious coins.
Unsurprisingly for such a casual title, a massive part of the game is off-match upgrading. You'll be able to bring 8 different units/classes - plus a hero - to each battle. It doesn't mean hugely strategic choices but rather a foundation of a 4-aspect upgrading system.
To become stronger, you can change unit type, rarity, rank, or level - affecting primarily HP & attack. Resources for this can be earned in multiple ways - the primary one is opening chests obtained after battles - but that takes hours. There's also an events/challenges section with special stages for various occasions - and various resources.
Yet, the most beneficial way of playing is by watching ads. To get free chests, speed up existing ones, get in-match heal, autoplay, or even revive - you'll need to spend hours on ads to get all those benefits. No surprise there's a skip-ad premium item - along with other premium packages - and battle pass.
Last update: 26 Oct 2022 13:10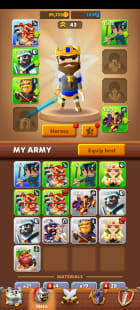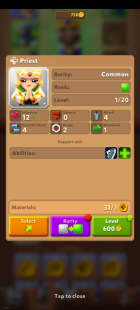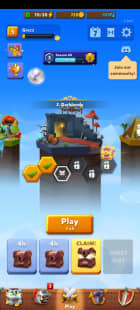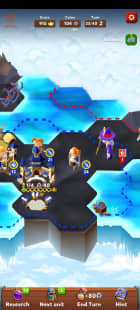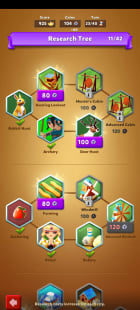 Resources
Main
Shared by others