paper / conquer territory
board layout

hexagonal
show more
graphics
camera

top-down
fully animated 2d characters
perspective

2d
graphic style

colorful shapes
show more
details
Permissions count

11
App size (memory used)

291
release date

20 Sep 2018
show more
controls
orientation

vertical
show more
monetization
pay to remove ads
show more
IO games
powerup after ad
show more
fully animated 2d characters
Description
HexSnake is free mobile IO game heavily inspired by one of the most popular IO subgenres. Following in steps of paper.io, it offers well-known gameplay with new graphics.
Like many similar titles, HexSnake is visually based on simple, colorful shapes with a pseudo-3d touch. Split into hexagonal tiles, the board looks clean and neat, especially with little repeating shapes that are part of the skin. Those skins seem to be one of the main selling points. From smiling fruits, through animals, emojis, to the little wizard with the striped scarf, there's plenty to choose from, especially considering all come with special effects, and some are animated. Unfortunately, some elements, especially in UI, seem random, out of place, or not appropriately translated.
The gameplay itself is straightforward - steer with one finger and get as much terrain as possible. This usually requires some balance between being aggressive and careful - enemies cannot kill you in your area, but staying there won't increase your score. Scoring high - aside from barging rights - unlocks new skins for your collection. That's basically the only outside-the-game goal - there's no currency, chests, or leaderboard. The good thing is that HexSnake can be played both online and offline (with bots).
As the game won't let you earn premium currency, and there's no in-game shop, the only way of monetization is through ads. Not only could those be watched for unique skins, but they could also revive you after death, provide an unfair advantage. Ads will even appear without consent after a match.
Last update: game added to overtap: 18 Oct 2021 14:10
No updates seen yet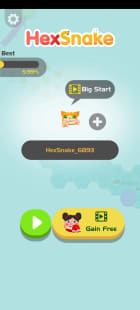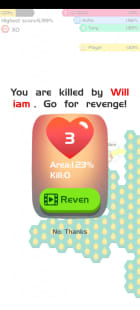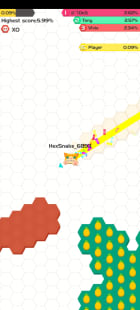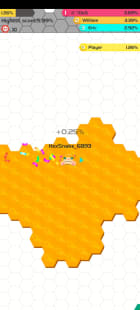 Resources
Shared by others