Hunters Clash
Developer
Aleksei Moshkovich
graphics
Theme

fantasy
camera

fixed camera (perspective)
graphic style

realistic
show more
monetization
gacha / chests
premium currency
energy / keys system
In-App Purchases
ads amount

no ads
show more
controls
orientation

vertical
show more
technical
graphics quality selection
show more
gameplay
playable offline
show more
camera
fixed camera (perspective)
Description
Hunters Clash is an early-stage fantasy-themed action game - hack'n'shash/brawler with run-or-shoot controls.
What sets this title apart is definitely the high-quality 3d graphics. It's set somewhere between a stylized and realistic approach. Heroes are of natural proportions, crafted with a significant number of details - to the level of individual creases on clothes. That's some nice change from the usual, simplified, low poly/heavily stylized mobile 3d. At the same time, character ideas are pretty standard - strong armored warriors, female archers, or mages. Unfortunately - due to the game being on early-stage - there are just 8 heroes and no skins.
Still, the rest of the graphics are also really excellent quality. All the structures, objects, trees, and even the ground are top of what you might expect from such a mobile title. Enemies also look good - from tiny wisps to giant dragons breathing fire - the VFX are also good.
The gameplay is somehow inspired by Archero-like titles, sharing controls/attack patterns, and a level-up system (select random skill after each one). At the same time, you're thrown onto the map to compete with several other players. Unlike most MOBA-shooters, you'll be able to select one from 2 available modes - "hunt" or "arena". The first one is about pure PvE, where you run around & kill mobs for coins, meaning levels & scores. Those levels will let you become a little stronger & defeat bigger monsters, and if you get the most points within a few minutes - you win. Arena mode is similar - just instead of monsters, you fight with other players - and the map is also fit for PvP.
Each hero fights differently - with a sword, bow, magic, or throwables - and has one unique skill. Also, on the map, you can spot a chest full of money or a wisp with a health boost.
Unfortunately, there are not many other features yet. You can do some random quests and collect progress rewards. That can be spent on shared skill & hero skill upgrades. Then, you can select a combination of obtained skills for each hero - but the number of options isn't enormous.
With a limited number of features, it's nice that developers didn't set up monetization yet. In-game shop only accepts in-game currency, and you won't see any ad playing Hunters Clash.
Last update: 12 Aug 2022 18:08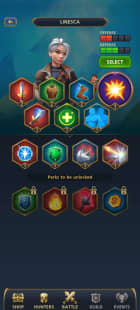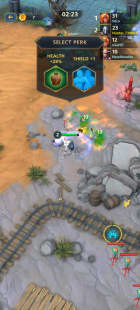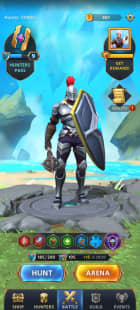 Resources
Shared by others