Idle property management
property view

separate screens
managers
show more
graphics
Theme

theme park
graphic style

2d vector
fully animated 2d characters
camera

isometric
show more
Idle
worlds available

3
observation bonus
show more
technical
PC/console/browser cross-play
sign in methods (Android)

Guest / none
show more
details
release date

16 Sep 2021
show more
monetization
ads amount

many ads
show more
fully animated 2d characters
Description
Idle Creepy Park Inc is an idle theme park management game with some unusual features.
Unlike most of those titles, this one won't give you one scrollable board with a bunch of rooms scattered. Instead, everything is split into scenes perfectly fitting the portrait view. The first one is the bus arrival area and tickets office, unsurprisingly. Then, you could quickly swipe to the rooms, every with a different theme - Egypt, pirates, etc.
Aesthetics here aren't breathtaking - but aren't bad either. Most of what you'll see will be backgrounds - nicely drawn vectors, yet static and a little blurry. Then, guests arrive - tiny, simple but varied, and lively characters, quickly creating a colorful crowd that's nice to watch. There are also attractions - prominent animated figures, which continuously scare visitors for money. A nice touch is that - after a few upgrades - they'll start doing additional tricks - like giant snake swiping tail.
In terms of gameplay, Idle Creepy Park is mostly just like every other title from this subgenre. You'll have to develop attractions while investing in bus & tickets office to avoid bottlenecks (and shoop booths for additional cash). In the beginning, not much will be available. Still, you'll quickly level up and unlock other features for your guests - including new rooms with new themes. Eventually, you'll be able to open a whole new theme park of a different type and start from the beginning there. To prevent boredom, a VIP guest will arrive from time to time. Usually, that means simply instant cash, but here, the special guest will wander around, throwing bags of money. That makes them attraction itself, making kids happy and everything work smoother.
Every mobile "theme park manager" tries to show as many ads as possible, with 5 different "free reward" offers every few seconds. Idle Creepy Park also nudges the user to watch many videos but seemingly tries to do this in a more civilized way. There's no ad button on the screen most of the time, and watching feels rather rewarding. Of course, you can also purchase the no-ads feature, along with premium currency or various boosts.
Last update: 15 Aug 2022 17:08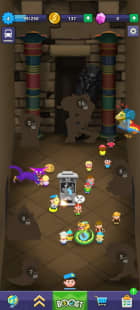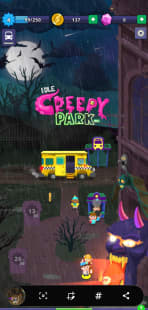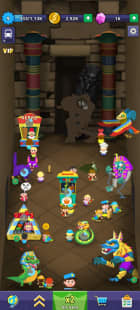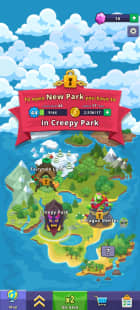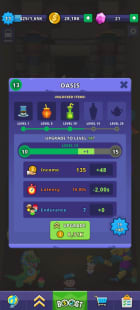 Resources
Main
Shared by others