graphics
Theme

prehistoric
camera

isometric
graphic style

lowpoly
show more
Idle
worlds available

12
offline gains limit

unknown / unspecified
restart mechanics

start fresh in new place / world
skins / costumes for characters / vehicles
show more
monetization
gacha / chests
ads amount

tons of ads
show more
details
release date

14 Feb 2020
show more
gameplay
online events
show more
Description
Idle Digging is a free idle prehistoric-themed clicker. With just tapping, waiting, and a few upgrades, you'll be able to build/discover some lovely structures.
Watching changes is one of the main activities in this type of game. Here, you'll see just a massive block of dirt at the beginning, seen from an isometric perspective. Graphics is very simple, low-poly 3d with just a pack of colors - but it still looks pleasant. Still, the essential part here is what happens with this block.
From a tiny camp, a worker will come to crush little cubes of the ground, one by one, until the whole layer is cleared. Soon, you'll see that some impressive structure starts to emerge - like walls of a vast prehistoric house. It'll also get a roof and other elements with digging progress until it's finally complete - and workers are ready.
Single digger wouldn't be able to crush all the increasingly harder ground, so you'll need to use the upgrades system. Each block removed will yield some amount of money, which can be spent on one of the multiple boosts - from additional workers to strength and speed. Aside from this, when construction is partially complete, you'll be able to buy some extra decorations, like rugs or torches.
When 100% of the land is removed, construction is complete, and you can go further, to new scenery, to build a different thing. Also, after some time, you'll discover an alternate path - digging on other planets.
Progress could quickly seem very slow, so you might want to use one of numerous power-ups & bonuses. Unfortunately, almost nothing comes without watching ads. Collecting gold from discovered treasure, speed-ups, money multiplier, or a big guy that'll jump and crush the ground - all of this is available after some video. Alternatively, you can get rid of those ads with purchase - or get some premium gems for easier progress.
Last update: 16 Aug 2022 11:08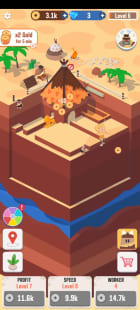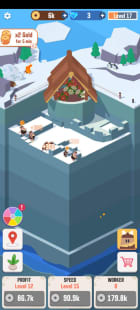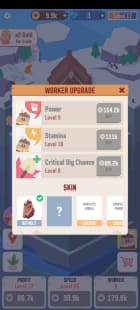 Resources
Shared by others