graphics
Theme

sports
camera

isometric
show more
monetization
ads amount

tons of ads
gacha / chests
forced ads
chest opening waiting period
show more
RPG
autoplay

premium only
max game speed

2
show more
gameplay
playable offline
online leaderboard
show more
controls
orientation

vertical
show more
Description
Idle Five is a sports/basketball-themed idle game with RPG and clicker elements. Despite the first impression, it doesn't have much to offer for sports management fans - instead, idle RPG lovers will feel at home.
The game welcomes you with a neat, 2d court with live cards of 5 players. Here, you can customize a few visual aspects of your team, like colors and a logo. Yet, the screen you'll be seeing the most is the actual field during a match - equivalent of battle. Everything here is simple but thoughtful. Players are cartoon-like, outlined vector with some gradient, and special skills nicely pause the time. Additionally, the game story is told using messages on imaginary social service "Twister", an innovative approach.
The gameplay is simple, but it can still be split into several aspects. The first thing is waiting a few seconds and then swiping your team to collect some money. Then, players could be upgraded a little, yielding even more money per second. That would be just a simple clicker/swiper, but for real progress, you'll need to play a series of matches. Two teams of 5 will be matched into 5 pairs and try to score as many points in one-on-one as they can in a given time. That's an auto-play, but you'll still need to fire skills manually. In addition, you can earn some decent money when going offline, which can be helpful when matches get too tricky.
The intriguing thing is that - despite having chests to open for rewards - you won't be finding new players by gacha. Instead, you'll find stickers, which can - together with money - be used to recruit new, random players from a random pool. What's more, you'll get skill shards for upgrades, and after some time - you'll be able to level up the whole team, increasing the income factor.
Unfortunately, you'll have to watch tonnes of ads to play effectively. Everything you earn can be multiplied using ads; many other multipliers can be recharged with ads. Ads can give you energy, gold, speed-up chests, and they will also appear without even asking. The ad watching time could be reduced by purchasing a "VIP" premium subscription.
Last update: 11 Aug 2022 16:08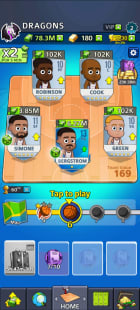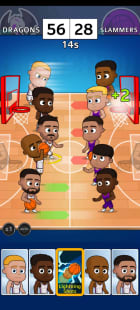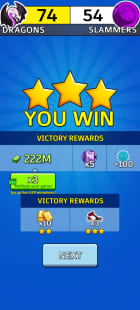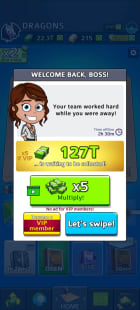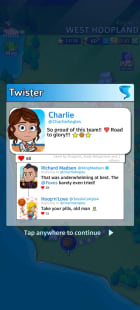 Resources
Shared by others