Idle Fortress Tower Defense
graphics
Theme

fantasy
graphic style

outlined simple vector / doodle
camera

isometric
show more
technical
sign in methods (Android)

Guest / none, Facebook
FPS selection
PC/console/browser cross-play
show more
Idle
complete quests to advance
offline gains limit

storage
show more
details
release date

21 Jan 2022
show more
monetization
ads amount

many ads
show more
social
clan wars
show more
sign in methods (Android)
complete quests to advance
graphic style
outlined simple vector / doodle
Description
Idle Fortress Tower Defense is a free mobile game with a perfectly generic, descriptive name. You know exactly what to expect - tonnes of enemies, lots of grinding - and lots of ads.
The graphics here is also somewhat generic. It's colorful but strikingly simple at the same time, using a well-known doodle-like approach. Enemies are made from just a few shapes, environments are somewhat repeatable, and UI uses a tiny amount of graphic elements. Still, with a wide camera set above and tens of enemies approaching at once, the game looks good, running smoothly even with the speed multiplier.
The gameplay is split into runs you'll repeat over and over, starting from the first stage every time. In order to become stronger and reach further levels, you'll earn 2 types of non-premium currency - coins & gold. While often overlapping in effects, the first can be spent only during runs, disappearing after being defeated, and the latter carries through the game, to let you buy permanent upgrades.
Purchasable perks are split into several categories - attack ones (like multi-shoot or freeze), defense (hp boost, damage reduction), money (generating currencies on various occasions), and others, like satellites or mines.
There are also other systems for permanent boosts. Equipable cards can be drawn using the premium currency, and there's a lab where you'll be able to research some special perks after a given time. With all those systems, you'll be able to kill bosses, break records and unlock new worlds. All this happens while idling, with minimal required actions (just coin purchases). At the same time, offline gains are limited but valuable - you can mine the premium currency every few minutes, up to some small limit.
The game is free, but it contains a lot of ads - watching them is not obligatory but necessary to progress at a good pace. Fortunately, you can also buy a no-ads package from the shop, along with other packs & premium currency bundles.
Last update: game added to overtap: 26 Aug 2022 19:08
No updates seen yet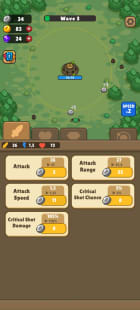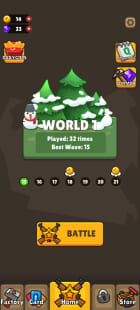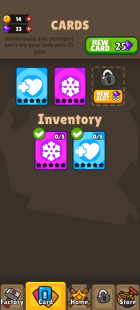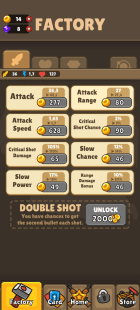 Resources
Shared by others