graphics
Theme

sports
camera

isometric
graphic style

lowpoly
show more
Idle
max offline time (default)

2
restart mechanics

ascension with set bonus
currencies

2
collection system
show more
monetization
ads amount

tons of ads
gacha / chests
show more
details
release date

20 Jul 2020
App size (memory used)

331
show more
max offline time (default)
Description
Idle Gym Sports is a mobile property manager game, following in the footsteps of "theme park" titles. Instead of a funfair, you'll be running a set of sports stadiums, attracting athlete guests.
Graphics here are relatively simple, with low-polygon 3d models and some 2d character art in menus. Halls consist of several objects, but after a few upgrades, they look better, with some additional features like a water dispenser or scoreboard. Guests (of just several types) will magically change clothes, train, and leave after a while. Overall, different elements look slightly random, but vivid colors and special effects might be pleasant to watch.
The game starts with standard features - guests enter through the entrance (paying for ticket) and then are headed towards lockers. From there, they're just visiting stadiums, hopefully without waiting in queues. Those stadiums got a standard set of upgrades - level up for money, add capacity or shorten train time. Then income will rise in no time, with a bit of help from marketing. Soon, you'll be able to build more stadiums, and after some time, "remodel" the property with a new theme and fixed income bonus. There's also a simple "sports team" system in place, allowing to send a team on training and then check the tournament results.
The game is said to be idle, but the most effective way of playing is not waiting - it's watching ads. You can watch ads for 2x powerup, for money bonuses, for bonuses to bonuses, for spins, cards, etc. Reward video icons seem to take most of UI space, and the rest is mainly filled with purchase offers - starting with longer idle time.
Last update: 16 Aug 2022 17:08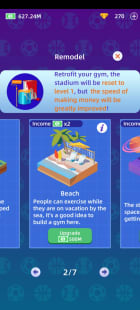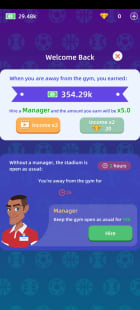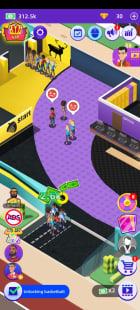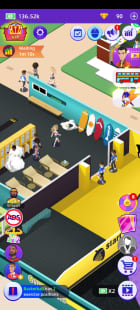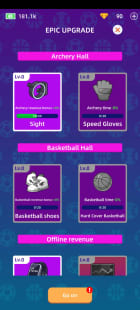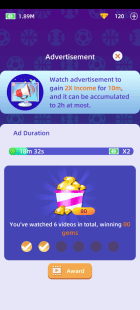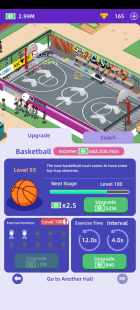 Resources
Main
Shared by others