discontinued
graphics
Theme

pirates
camera

isometric
graphic style

other
show more
Idle
worlds available

25
show more
gameplay
online leaderboard
online events
show more
monetization
ads amount

many ads
show more
technical
FPS selection
show more
RPG
pre-battle setting

simple
show more
details
release date

17 Feb 2022
show more
controls
orientation

vertical
show more
Description
Idle Pirates - Island Tycoon is an innovative mix of two idle versions of popular genres - RPG & management.
The game uses both 3d and 2d perspectives - both in kind of distinctive ways. Two of the main views - property management & battles - are shown in three dimensions. Yet, with the isometric camera, a limited number of colors, and strong outlines, those scenes look like painted images that somehow move. The characters here are highly simplified, but some neat animations are happening around your buildings if you look closely - like someone getting kicked out of the bar.
Similarly, 2d characters and screen are also quite unique. Your crew members - despite chibi proportions - look convincingly strong & dangerous. Such a drawing style makes up for the lack of animations & voicing. What's more, besides legendary corsairs like Black Beard, you'll spot some more recent references - like a gray-haired witch killer or a Joker.
The gameplay at the core revolves around getting more money - and the money comes from managing pirate properties, like weapon dealers or casinos. At first, you'll need to manually collect profits, but heroes come to help as it would quickly get tedious. Aside from working as managers, they could fight too, leading to 2 ways of getting new properties - money or force.
There's a separate screen dedicated to battling - with all the main features of idle RPG. You can advance in stages, collect idle money, or even access journey mode, with a limited HP pool and random bonuses after each fight.
This makes the Idle Pirates double-idle game, with 2 systems intertwining in many places. Among others, the management screen's idling time depends on the number of heroes. The game progress is mainly determined by the island you're on - and to progress to a new one, you'll need to complete lots of quests. They are also fairly split between management and fighting parts - like upgrading a given building to a specific level or gathering enough rum (hero exp currency).
As in every gacha title, one of the primary things to buy are chests - to get better pirates or upgrade existing ones. Aside from that, you can get a premium subscription for multiple bonuses or some other bundles. There are also many ads to watch - for 2x bonus, new chests, quick gifts - but they might be skipped with said premium.
Last update: 8 Nov 2022 08:11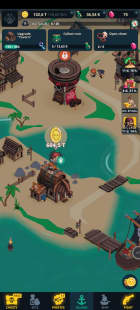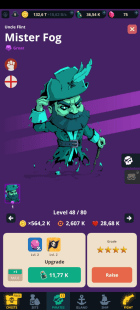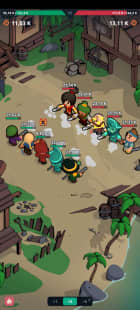 Resources
Shared by others