graphics
Theme

steampunk
graphic style

pixel art
camera

isometric
fully animated 2d characters
show more
gameplay
online leaderboard
online events
online (PVP)
show more
monetization
ads amount

many ads
pay to remove ads
show more
controls
orientation

vertical
show more
RPG
max game speed

2
show more
Description
Idle Squad is an indie, steampunk-themed idle/hero-collector RPG. While it's not so feature-rich as many other RPGs, the indie/old-school feel there might be worth checking.
Steampunk isn't a trendy theme nowadays, si this alone is rare. Here, this mechanical setting is combined with traditional fantasy elements like mages, archers, or bards. Characters are simple, squared, and super-chibi - fitting in a small square, with the head taking most of the space. Despite those limitations, heroes are well-drawn & easy to distinguish. There are heavily-armored warriors, mages, clerics, and even cute animals. Environments are finely-drawn with quality pixel art - sometimes composed from blocks, occasionally huge, unique elements. Ui - including most fonts - is also pixelated, depicting metal-like aspects, boosting the steampunk feel. There are also enemies to kill, but most of the time, you won't be able to see them under a fantastic amount of high-quality, animated special effects.
Like in many similar titles, the gameplay is split between offline/idle earnings and actively challenging stages. The first part is introduced with the gold-making machine on the main screen, which you just need to click to collect gold flowing everywhere. Aside from advancing in the campaign, to boost the output, you can just watch some ads - or click multiple times to warm up the machine (for some time).
Battles are fought automatically, with your team of 4 just attacking nearby enemies with everything they got. As usual, you have control over the moment they'll cast skills - or you can just switch to full auto. Unlike many other titles, you won't find a screen with 99 features - but there are still some things to do. You can attack the tower to see how high you can climb or try some challenge for a daily dose of resource/currency.
A large part of such an RPG is always boosting your team. The first thing to do is recruit more heroes - to find some legendaries/epics. Then, they can be merged to consume some and enhance others. The most common thing to do is just level up, consuming those piles of gold made by machine. The last thing you can do is use equipment/artifact systems - powerful items made specifically for one hero, found in chests.
Idle Squad depends on gacha draws in many aspects - but it's also pretty generous in terms of giving premium currency. To play efficiently, you'll need to watch lots of ads - but there's also a way to purchase a "no-ads" upgrade.
Last update: 12 Aug 2022 12:08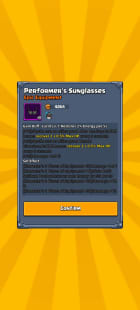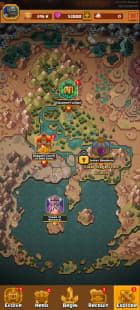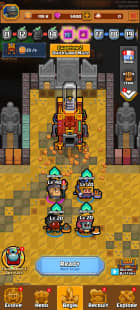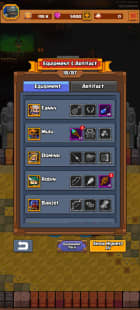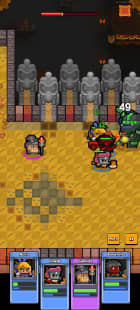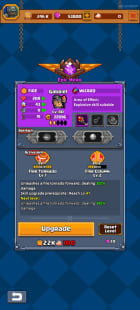 Resources
Main
Shared by others