graphics
Theme

sports
camera

fixed camera (perspective)
graphic style

lowpoly
show more
monetization
premium currency
ads amount

many ads
gacha / chests
show more
Idle
max offline time (default)

2
offline gains limit

time
restart mechanics

start fresh in new place / world
show more
details
Permissions count

9
release date

27 Apr 2021
show more
camera
fixed camera (perspective)
max offline time (default)
Description
Idle Yoga Center (Idle Yoga Tycoon) is a simple property management mobile game. You can expect well-known gameplay mechanics - theme-park-like management - but with a yoga theme.
The graphics of the game - like many similar titles - is simple 3d, low-poly scenes. You'll see - with slight ability to zoom - simplified guests arriving, entering Center, train, and leave - creating lively scenes. The most exciting part is the room/utility design. Customers will just enter the room with given appliances, perform the same yoga pose, and leave. Then, after a few upgrades, you'll both see new poses and increasingly creative utilities. Instead of a ball, people will train using giant fruits, and the yoga mat will be replaced by flying carpets. An excellent addition is also relaxing music in the background, perfect for a yoga center.
The gameplay here isn't much different from many similar titles. Basically, you'll need to develop rooms & training spots while keeping several other factors in mind. Aside from getting new rooms from time to time, you'll use 3 types of upgrades. Level-ups will provide earning multipliers (together with new visuals). You can also add a new spot or shorten training time. The other factors are the promotion levels and things limiting the throughput - parking side, locker number, etc. After earning enough money, you can change your center design and get a fixed earning multiplier.
Idle Yoga Center is a simple game, and there isn't a premium shop or premium currency. You purchase one of a few upgrades, including the one removing ads. The last one is essential, as, after a few seconds of playing, you'll be seeing lots of offers to progress after in exchange for watching a video.
Last update: 14 Aug 2022 13:08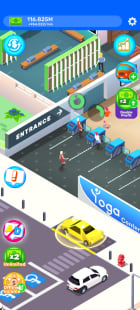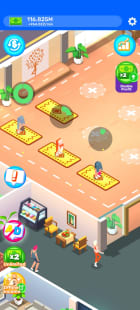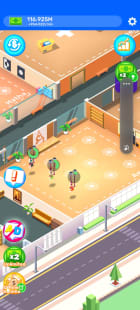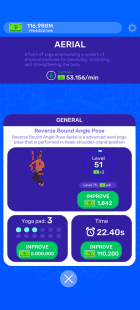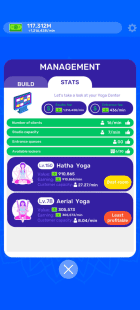 Resources
Shared by others