graphics
Theme

zombies
graphic style

blocky
camera

fixed camera (perspective)
show more
monetization
In-App Purchases
banner ads
pay to remove ads
ads amount

tons of ads
gacha / chests
forced ads
show more
details
release date

9 Feb 2021
show more
technical
FPS selection
show more
camera
fixed camera (perspective)
Description
Idle Zombie Shelter is a simple, blocky-styled game about continuously building shelter & fighting endless waves of the undead.
The most prominent visual feature here is the blocky, mine-crafty character design. Both defending heroes and evil monsters - former builders, policemen, or thieves - are made from just a few colorful blocks. While the animation is often not very smooth - the mass of chaotically roaming & attacking enemies can be a pleasant view. You'll also be able to equip some nice blocky gears for your survivors - but it won't be visible in the game.
The second most important thing to see is the defense scene itself - continuously upgraded shelter. In the beginning, it'll be just a ruined building, but soon, it'll become more & more impressive - and better at killing zombies. You'll see the constant shooting, launching of missiles, etc. The shelter and surroundings are plain and low-poly, but weather/time-of-day effects make things convincing.
The gameplay is mainly about getting the wood by killing zombies (or idle) and using it to upgrade your structure. This can be done by clicking actively or idling, yet the offline options are surprisingly limited. What's more, there's a pseudo-linear-RPG mode where you can use your survivors as heroes to fight autoplay matches. That way, you'll earn resources to upgrade heroes & gear, so you can progress further.
There's a 2x speed-up button, but the overall fight seems rather dull, taking way too long.
The main problem with the game is the sickening amount of ads. There are tonnes of supplies dropped around - just watch an ad. Do you want to skip sleep, get idle earnings, or get other bonuses? Watch an ad. The chests with gears? You've guessed it - ads! If that wasn't enough, ads would also play forcefully on multiple occasions - that's almost painful. At the same time - surprisingly - you won't be able to make purchases with real money - at least in part of the markets.
Last update: 12 Aug 2022 03:08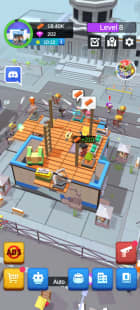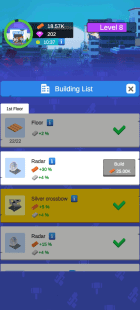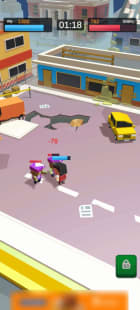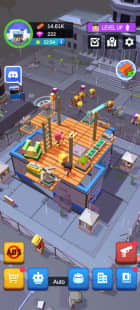 Resources
Shared by others