graphics
Theme

insects
camera

fixed camera (perspective)
graphic style

realistic
show more
Idle
currencies

2
restart mechanics

start fresh in new place / world
collection system
show more
details
release date

8 Oct 2020
Permissions count

9
App size (memory used)

394
show more
monetization
gacha / chests
ads amount

tons of ads
show more
camera
fixed camera (perspective)
Description
Little Ant Colony is an idle/clicker mobile game that's focused just on one single thing - ants deconstructing & gathering real-size objects.
Because of this, you'll be seeing a single object with a single camera most of the time. Yet, unlike most "casual" games nowadays with extremely simple, low-effort graphics, here you'll see a detailed, almost realistic environment. In the midst of some forest or bushes, you'll see some human-made object lying next to an ants' nest. That could be some food like a slice of pizza, cookie, chocolate, or even a small, not-edible item. Then, an ant will emerge from the nest, taking a tiny bit of this thing throwing it into the nest. Looking at tons of little creatures working tirelessly on something so huge for them is definitely a pleasant experience.
When an ant throws the piece into the hole, it generates food currency, used to buy upgrades, making things faster. There's also a button to get food for every tap if you prefer active play. Yet, the most critical resource is automatically generated - DNA used to buy new ants, strengthening your colony. When you finish the last bit - you can move to the new item - and after some time to a new world.
Interestingly, there's some more gameplay here than just decomposing items. From time to time, you'll be able to get a card - part of a skin that could turn your ants into totally different bug species, like spiders or ladybugs. Also, there's an additional "fight" mode, where you can earn separate currency (sugar) to build your tiny army and fight enemy bugs.
Unfortunately, most likely, you won't be able to enjoy the game and the view, as the number of ads here is absolutely atrocious. You can always use one of many temporary boosts after a video; everything you earn can be multiplied this way, and even if you try to avoid them - ads will come without asking. Unless you want to pay for an ad-free version - playing might not be possible.
Last update: 15 Aug 2022 14:08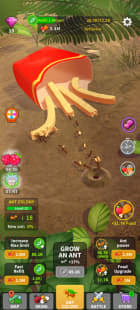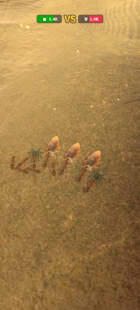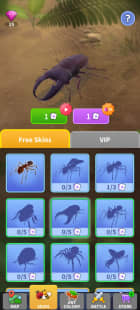 Resources
Shared by others