Battle Royale
loot type

power-ups
teams
show more
graphics
Theme

fantasy
camera

fixed camera (perspective)
show more
technical
graphics quality selection
sign in methods (Android)

Guest / none, Facebook, Google
show more
monetization
ads amount

little ads
chest opening waiting period
show more
social
play with friends
friend list
show more
gameplay
online (co-op/PVE)
show more
camera
fixed camera (perspective)
graphics quality selection
sign in methods (Android)
Guest / none, Facebook, Google
Description
Magic Arena (not to confuse with MtG game) is a mobile fantasy-themed battle-royale shooter with a top-down camera.
This game uses a kind of mix between heavily stylized, almost cartoonish characters and a low-poly environment in terms of graphics. You can play as one of the unique magical heroes - a crazy-looking Archmage, a dryad priestess, or a skeleton king. The number to choose from isn't high, but they are smoothly animated and come with individual battle sounds.
The map is split into 4 zones that play & look differently. It's the gloom graveyard with catacombs, a forest with many hiding places, a desert with pyramids, and a lava zone with.. lava. The flames exploding there and other flames & spells look simple but polished & convincing at the same time. The same goes for UI - definitely a pleasant experience with all the minor things like animated elements. Even the soundtrack is strangely mesmerizing.
The gameplay is generally straightforward - and unique in some parts. You're dropped randomly onto the map - but you have the time to select the preferred quarter. You're totally unarmed after the start, unable to hit anyone. Most likely, you'll be able to quickly find a mana bottle, increasing max mana to 1 (cannot pass 3) and momentarily unlock all 3 preselected spells. Aside from collecting the following 2 bottles (for burst damage), you can also find element-enhancing potions - or standard heal/armor ones. You can get them by killing monsters, destroying crates, or defeating other players. As in (almost) every battle royale, the battle area will shrink with time, and your goal is to survive as long as possible, preferably until the very end. To make things even more exciting, the giant monster will be spawned randomly, holding a powerful random rune. This could be something like a deadly aura or stat boost - but it'll reveal your position on the mini-map.
There's a standard shard/upgrade system for the battle preparation. As soon as you obtain a hero/spell, opening chests could yield fragments that you can use for upgrades. Also, besides selecting a hero, you can freely combine 3 abilities that you'll bring into battle. That could be some kind of movement boost, projectile, AoE, with different costs and side effects. Ending up in a good position will allow you to advance in leagues, unlocking more items, but that's basically it when it comes to features. No team play, no clans, no additional modes/maps.
There are ads in Magic Arena - you can watch videos for a pack of free rewards or speed up a chest a little. Besides this, you could invest in some premium currency deals - or get a premium pass.
Last update: 15 Aug 2022 07:08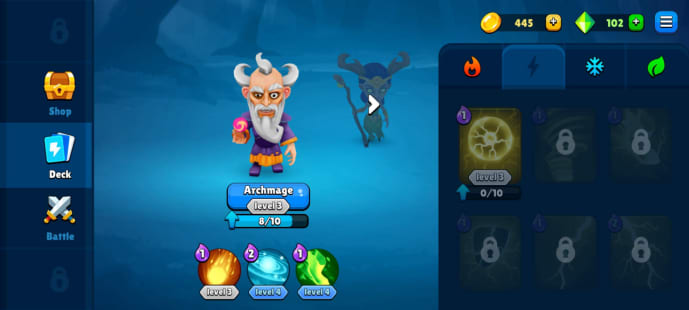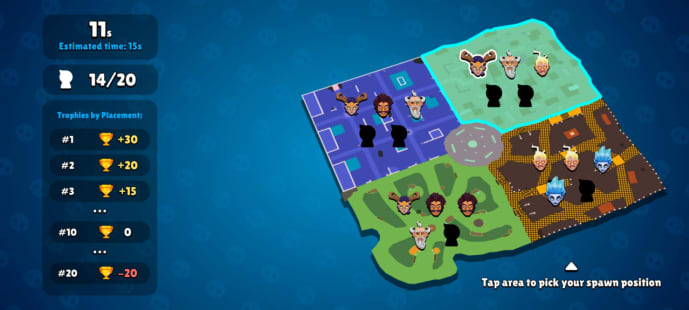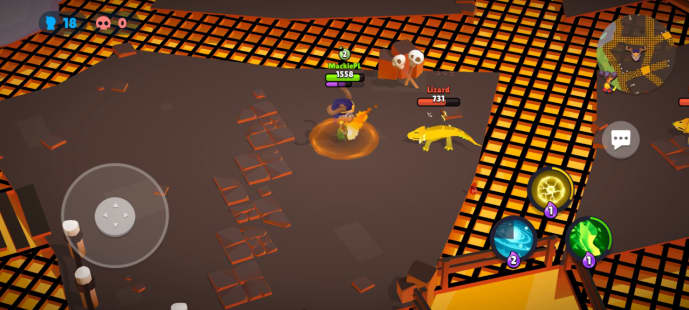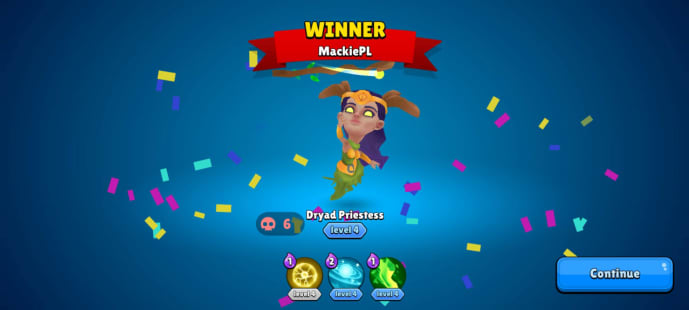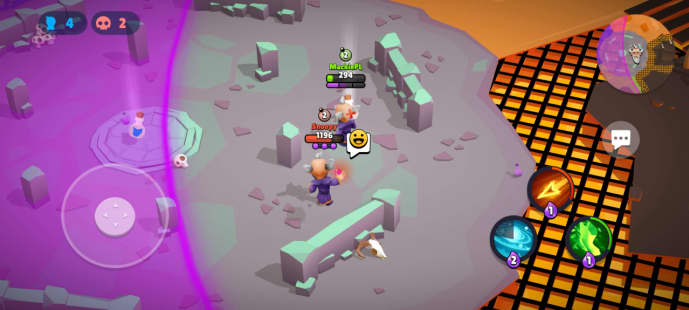 Resources
Main
Shared by others