RPG
battle mechanics

other
show more
graphics
Theme

fantasy
camera

fixed camera (perspective)
show more
gameplay
online (PVP)
online events
online leaderboard
show more
monetization
ads amount

little ads
show more
social
in-game text chat
show more
controls
orientation

vertical
show more
details
release date

9 Feb 2020
show more
Description
Magic Streets is a unique location-based RPG/RTC/collecting game. Although a small indie company created, this game mixes several genres, offering depth rarely seen in games based on GPS data.
Aesthetics there is pretty simple, being a mix of low-poly and stylized fantasy objects. Both the character (customizable) and structures are just angular models with plain colors, with enough details to be easily recognizable. At the same time, monsters got some more features and colors for a bit of old-school fantasy feel.
On the map, you'll probably see lots of monsters - clicking one will take you to an encounter. Battles are standard turn-based, 1v1 fights with regular attacks, skills, and items. Depending on your weapon, you'll play a very simple timing-based mini-game to determine attack effectiveness. After a won battle, you'll, among other things, receive beaten monster's shards. Those can be combined to summon & upgrade this monster as your "companion", providing additional skills during the subsequent battles. This makes Magic Street a bit like Pokemon GO, where exploring to find rare specimens can be the goal itself.
Some of the encounters are marked as "rescue" missions - after victory, you'll get a citizen joining your village. That's the third aspect of the game - you can place your settlement on the map and then go back there whatever you want. There, you can use resources to construct buildings, for other resources, or to craft things. The resources can be harvested from the map, sometimes even with unique mini-games. The crafting will come in handy when gearing up your character to help you in battles.
Magic Streets isn't aggressively monetized - you can sometimes watch an ad for some gold and diamonds, and there's premium currency for lots of things.
Last update: 4 Sep 2022 06:09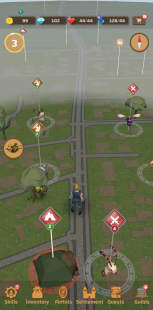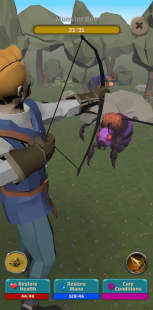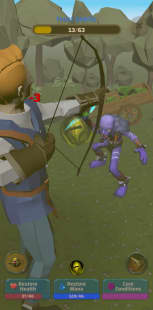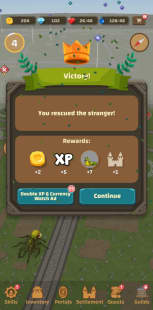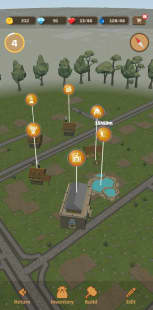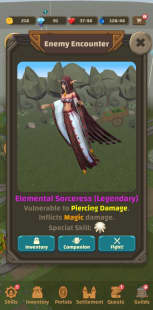 Resources
Main
Shared by others