Merge Gun
Developer
Pangu Game Global
Idle
max offline time (default)

12
graphics
Theme

zombies
camera

first person perspective
graphic style

lowpoly
show more
controls
orientation

vertical
show more
monetization
gacha / chests
ads amount

tons of ads
show more
gameplay
online (PVP)
PVP focused
show more
technical
graphics quality selection
show more
details
release date

4 Jul 2019
show more
max offline time (default)
Description
Merge Gun: Shoot Zombie is a zombie-themed mix of "shooting gallery" and idle merger. That means precisely combining weapons, waiting for free money - and then taking those stuff to stationary fight.
In terms of graphics, the game uses recently popular no-shaded low-poly style for all aspects. The enemies will be primarily plain undead from several types - football payer, beach girl, or scuba diver. There are also spiders, bats, giant zombie bosses, and dragons - all can be viewed in the gallery after unlocking. Their simple 3d design fits the environment well. You'll be killing those zombies in various sceneries - some pirate beach, wild west, or snowy woods - and they look pretty consistent and convincing.
The mere gameplay part is relatively simple. Just drag and drop a gun on the other one of the same type - and you got one of higher level. To get more guns, you can buy it - or just wait for a crate. Merging will give you experience and new levels eventually. That means more gun spaces & the possibility to get stronger ones. Also, guns will magically generate money when idle - and you can spend that money on new weapons or some generic updates.
The fun part begins when you bring one of those tools (usually the strongest one) to a zombie fight. You'll just need to tap the screen & drag it to target some monster - shooting will begin automatically. Still, to use ammo effectively, you'll need to aim quickly & accurately. When playing the "day" (campaign) stage, every 5 rounds, you'll meet the boss - and the environment will change afterward. There's also "endless mode" for a more significant challenge - enemies will spawn continuously, stronger and stronger.
Aside from those things above, all the rest are ads or premium currency offers. To get bonus crates, wheel spins, daily gifts, etc. - you'll need to pay with your time - and there are even forced ads after battles.
Last update: 12 Aug 2022 09:08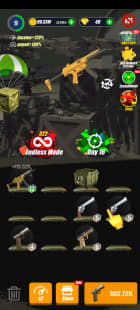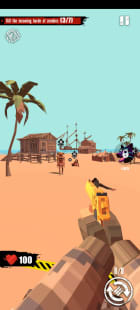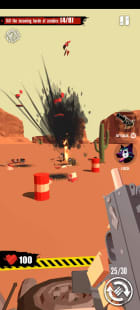 Resources
Shared by others