details
Current version

1.1.1
Contant rating

TEEN
show more
technical
graphics quality selection
Delayed resource download
show more
social
play with friends
obtainable emoji
manual emoji
in-game text chat
show more
graphics
camera

fixed camera (perspective)
show more
permissions
run at startup
full network access
show more
monetization
gacha / chests
show more
graphics quality selection
Delayed resource download
camera
fixed camera (perspective)
Description
Meteors Attack! is a simple casual "runner" with some lovely scenes and tons of ads.
Like many titles nowadays, this one also employs low-poly 3d graphics. It's used throughout the game - from the main screen and "run" phase to the final hit moment. The last one is crucial here - you'll be able to see many iconic places getting destroyed and falling into pieces. That could be Paris with the Eiffel tower, pyramids on sans, or some city by the sea. By using fundamental physics, they all crumble pretty convincingly.
Still, the number of targets is limited, so to prevent things from getting boring too fast, you'll be able to customize your meteor. You can drop from space as a rock, satellite.. or cupcake - and some special effects can be customized as well. At the same time, the UI is painfully plain, lacking expression - but also crowded.
The gameplay is split into 2 parts - collecting the orbiting rocks and then hitting the target - both are really simple. During "run", you just move your finger over the screen to collect as much as possible - but there are no obstacles and little fun. During the hit, you also just move the finger to adjust the target - which is nice but far from challenging.
The actual gameplay is getting gold and spending it on upgrades. This will attract more stones and enlarge the impact, further reducing the gameplay amount.
It's worth mentioning that you'll get big enough to destroy the planet after some rounds, getting the ability to obtain a permanent multiplier after reset.
Unfortunately, the game is packed with ads to the extreme. Not only ad banner is visible at the bottom for the whole time, not only you're pressured to instantly click the ad after it appears - you'll get forced video even if you decline. The good thing is that there's an offer to disable ads permanently.
Last update: 14 Aug 2022 09:08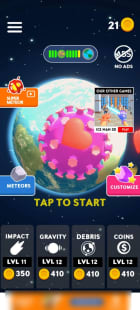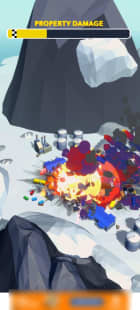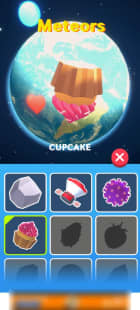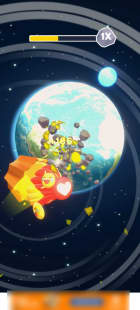 Resources
Shared by others