Physics-based puzzle
puzzle goal

reach exit
show more
graphics
Theme

mining / digging
graphic style

simple 3d
camera

side
show more
controls
orientation

vertical
Puzzle
stage selection
housing system
solution / hint system
show more
monetization
ads amount

tons of ads
banner ads
show more
details
release date

23 Jul 2021
show more
Description
Mine Rescue is a simple physics-based puzzle game that offers a lot of quick challenges and even more ads to watch.
Aesthetics here don't seem incredibly polished, but the game doesn't look necessarily bad. You'll mainly see lots of ground from the side view - soil, different kinds of stones, etc. Their simple colors and 3d perspective lead to a nice parallax view - especially pleasant as you can freely shape what you see. Over time, you'll see more elements in the more - coins, diamonds, ladders, boxes, etc. - but they are basic low-poly objects. At the same time, your character is more detailed - but a clumsy, big-headed child in a helmet might not appeal to some. Still, the menus/UI are dead simple again - just big, plain blocks of random color.
The gameplay here is also far from complex - which isn't actually a bad thing. You basically have one control to use - dragging your finger over the screen. This way, part of the soil is removed, possibly allowing the little miner to walk further (what happens automatically). He'll go down ladders, slide on slopes, collect coins on the way - physics work perfectly well here. After some rounds, it'll get harder - you'll need to drop some elements - or make the miner move them - to get to the exit safely. During those actions, you might not only get stuck - falling from heights or detonating something nearby will quickly knock the little guy down, forcing you to start the round over.
The first rounds are pretty straightforward - but if any later stages get too tricky, you can use a limited solution/hint item - it'll print the exact moves on the screen. In case you're curious, there's also an ability to go back to any previously completed stage. There's also another rather interesting feature - a simple housing system, where you can spend hard-earned gold on decorating your own mine with furniture, flowers, etc.
Unfortunately, if you try to play Mine Rescue, you might easily find yourself watching ads most of the time. Forced videos are everywhere, plus reward ones and even static banners - unless you pay to remove them. There's also a pretty simple in-app store with purchasable solution packs.
Last update: game added to overtap: 6 Sep 2022 11:09
No updates seen yet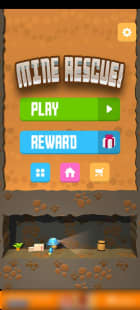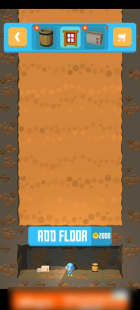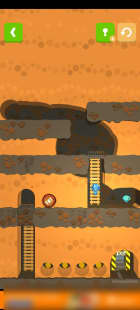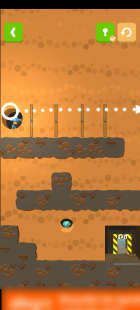 Resources
Shared by others