details
Current version

1.8.4
Contant rating

EVERYONE
show more
technical
graphics quality selection
Delayed resource download
show more
social
play with friends
obtainable emoji
manual emoji
in-game text chat
show more
graphics
camera

fixed camera (perspective)
show more
permissions
run at startup
full network access
show more
monetization
gacha / chests
show more
graphics quality selection
Delayed resource download
camera
fixed camera (perspective)
Description
Mini Football is a quality soccer title from a big publisher - polished, packed with action - and with typical monetization schemes.
The first thing you'll probably notice is the character design - heavily stylized, big-headed, cartoony players. It's an understandable move - that's the only chance to tell apart 22 characters running on a small mobile screen. Interestingly, those big-headed guys won't be just random figures - their looks & names strongly hint at real players, like legends "Bronaldo" or "Dios". During the match, they won't just run around & kick - after a yellow card, they'll react with anger/sadness, and after scoring a goal - you can expect a nice celebration.
While the characters' number is limited, the game offers much more customization than just choosing players. You can adjust each part of the wardrobe independently - from socks to shirts - as well as ball, logo, and even dance (not to mention team name and nationality). Overall, the game quality is expectable from the big publisher - colorful, animated menus, neat controls, and fine details - as judge running around realistically.
The matches in Mini Football seem surprisingly complete and convincing - just like real games, just quicker. Each team consists of 11 players, split into the attack, middle, defense, plus goalkeeper. You'll need to score more goals than the enemy team during 2 halves - shortened to just a few minutes. Yet, creators fitted there every essential aspect of the game - throw-ins, corner kicks, fouls, cards, penalties, etc. You'll be able to try every tactic that works in real life - dribble your chance with a single attacker, pass the ball to a better-placed mate, counter-attack, etc. You can outnumber or outrun the attacking enemy - or try a slide, risking a foul. Players will sometimes miss the ball, and sometimes they'll fall - an impressive amount of realism.
The primary game mode is just 1v1, with entry paid with gold and a gold reward for the winner. You can also join a tournament - a series of up to 3 matches with increasing prizes. Each time, you'll be matched against a random person with a name and avatar - although it's unlikely that each game is played in real-time.
The main reward for all your victories will be card packs - boxes containing player images. This'll allow not only using new stars but also upgrading existing ones - for better stats. Those packs can be opened by waiting, but this can be shortened by watching ads. Videos can also earn you other free rewards - although they're not obligatory. Alternatively, you can spend money to get one of the rare card packs, diamonds, or a premium pass.
Last update: game added to overtap: 10 Oct 2022 13:10
No updates seen yet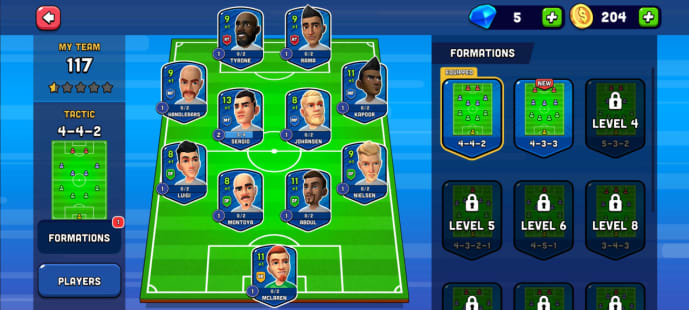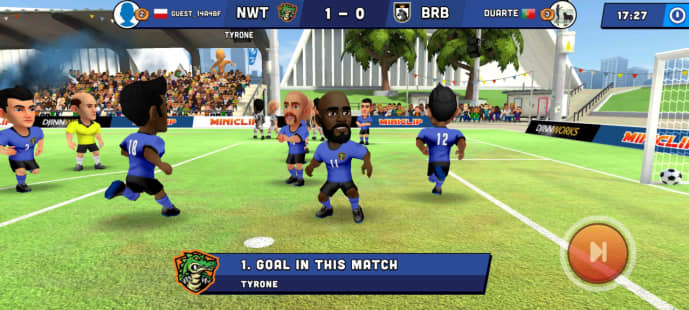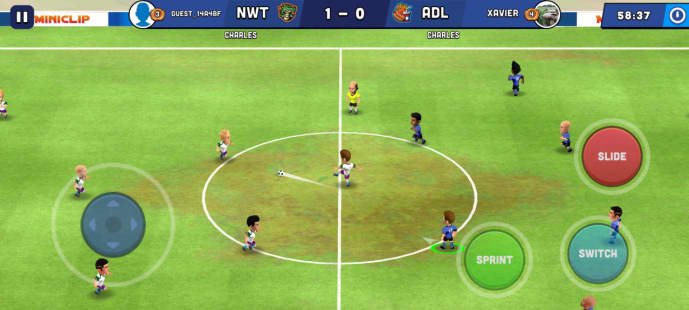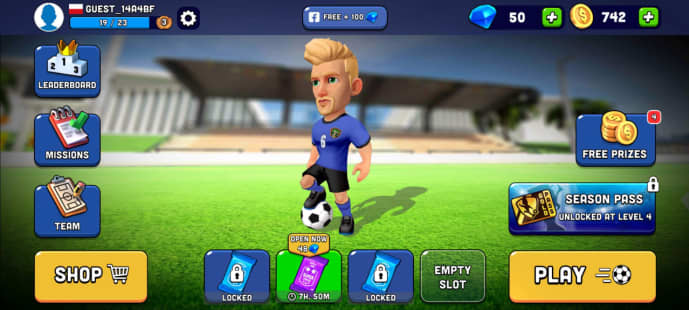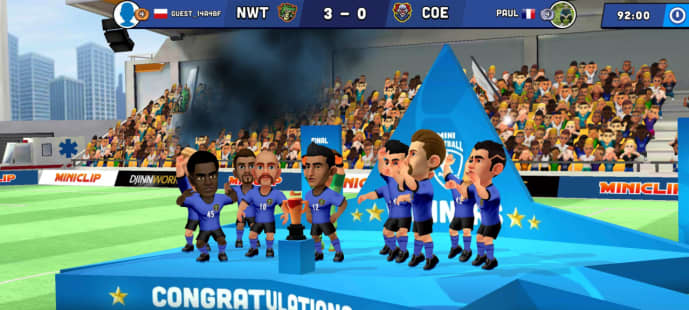 Resources
Main
Shared by others