graphics
Theme

zombies
camera

fixed camera (perspective)
show more
controls
orientation

vertical
show more
gameplay
online (PVP)
PVP focused
playable offline
show more
monetization
ads amount

tons of ads
energy / keys system
show more
technical
graphics quality selection
show more
details
release date

21 Nov 2019
show more
social
play with friends
show more
camera
fixed camera (perspective)
Description
Mow Zombies is a popular zombie-themed, single-player adventure shooter. This game should fit your needs if you like simple controls, quick rounds, and many enemies to shoot.
Despite the undead apocalypse theme, the aesthetics here is far from dark. The main character is a teenage girl with a short blouse and pink hair. Both on 3d model and 2d art, she is optimistic & smiling - same as most other heroes/NPCs. Even the zombies themselves aren't that scary, with colorful clothes and some amount of simplicity. Similarly, environments aren't totally post-apocalyptic, sometimes more like friendly neighborhoods. Still, this fits perfectly with bright, colorful special effects - including a red splash left after each defeated enemy. Unfortunately, the UI seems a bit random sometimes, and the main screen is painfully overpacked.
The gameplay is simple - you're thrown in the middle of a map, and zombies start appearing from everywhere. You'll need to control only the movement - as the hero will fire automatically, the second enemy appears in the range - even during the run. Usually, you just need to get enough kills - and sometimes there's a boss at the end. Fallen zombies will sometimes drop items - power-ups to quickly help in fight or resources to use afterward.
After the battle, the main thing you can do to make things easier is to switch/upgrade guns. There'll be many different weapons to try - from machine guns, laser rifles to RPGs. Also, you'll be able to fill secondary and "robot" slots - respectively, things like grenades & mines and some drones (to do auto-fighting). Another thing to easily power up your hero is a talent screen - a well-known feature to pay gold & get the random perk. More interesting is the city screen - as you'll progress in saving the world, you'll rescue more and more survivors - and they'll end up there. That'll mean not only visuals - but tonnes of new features like quests, trades, etc. You can even jump on a car and run over some zombies in a refreshing mini-game.
Mow Zombies can be enjoyed for free - but the devs will try everything to make you watch some ads in exchange. Round buff, free loot, free premium currency, free gacha, or even game speed-up - all of this requires you to sit and watch videos.
Last update: 13 Aug 2022 04:08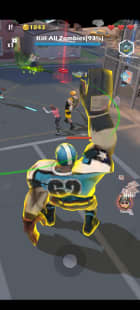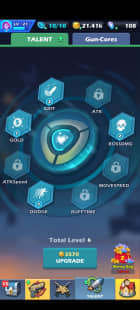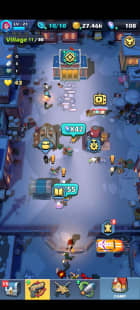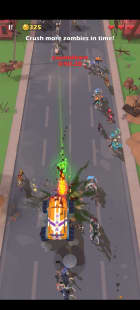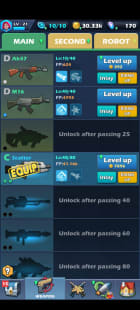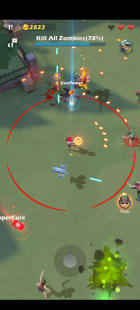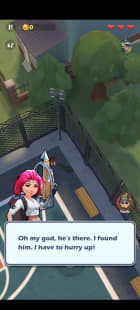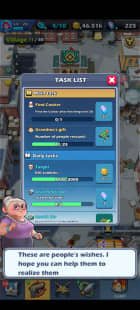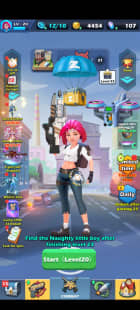 Resources
Main
Shared by others