Casual sim
world layout

hexagonal
unrestricted movement
show more
graphics
Theme

fantasy
show more
details
release date

5 Aug 2021
App size (memory used)

428
App size (in market)

213
show more
technical
sign in methods (Android)

Google, Guest / none
graphics quality selection
show more
monetization
gacha / chests
In-App Purchases
premium currency
show more
sign in methods (Android)
Description
My Little Universe is a popular, "super-casual" simulation game that you can play by simply dragging & running around.
There is not too much to say about aesthetics here. You control some dummy character, looking like something put here at the early development stage that someone forgot to finish. The rest is simple, low-poly 3d graphics - just put together using a nice hexagonal layout. Also, it's pleasant to see the tiles at varying heights - and to step out & swim around for a while. There are few special effects, and menus are just as basic as anything else - sometimes with outlined 3d elements.
Gameplay is as casual as it can get - at least in its core, at the beginning. You're free to run around the tiny planet full of resources - and as soon as you get near them - harvest starts. You'll need those resources to put them next to current tiles, to expand & discover new things. That could be new enemies, rocks, etc., leading to better items and further expansion. While that's the core, My Little Universe got more to offer, stretching the casual fun to log hours. You can craft yourself a better ax or pick to access better resources - and do it faster. To do it, you can process some resources into more advanced ones - or sell them to get gold. Also, you'll meet increasingly stronger enemies, so you'll need to craft/buy better gear. Eventually, you'll be able to build a portal to move into new worlds and access even more items & mechanics.
Unfortunately, the fastest way to progress tuns to be just watching ads for free resources - when you're not watching forced ones. Still, you can just pay instead to get rid of interruptions.
Last update: 11 Aug 2022 09:08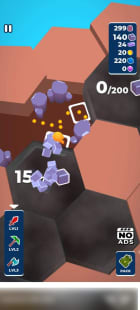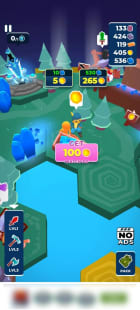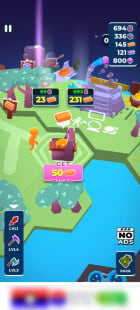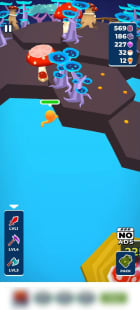 Resources
Main
Shared by others