Narcos City
Developer
Fast Game Limited
graphics
Theme

mafia
camera

other /none
graphic style

realistic
fully animated 2d characters
show more
details
release date

12 Jan 2021
Permissions count

12
show more
monetization
gacha / chests
ads amount

no ads
show more
gameplay
online (PVP)
PVP focused
show more
Description
Narcos City s a free, gambling-based adventure mobile game. It uses a well-known spinning mechanism, just instead of villages & cute creatures, there are gang fights & girls.
Aesthetics is the main point where such a game could differentiate itself from Coin Master and its clones. While it still offers similar 2d screens, the mafia/gangster theme makes much difference. Instead of colorful villages, you'll build some urban, gangster-related scenes. Also, icons on the wheel are replaced - cash instead of gold, guns instead of hammers. The small but nice thing is that guns used to make attacks could be seen in 3d, from every angle. The UI looks a little messy sometimes, but overall it fits the theme.
Gameplay is the same as in any game of this genre - meaning it's dead simple. You spin the wheel - either by clicking or automatically by long-tap. Then, as always, you can get money (more or less), attack, steal, or defense items. There are also additional features like spin multipliers for faster progress or quests counters that could be filled when you draw the right thing. Then, money is spent on upgrading (or fixing) one of the objects in one of the scenes - and it works the same way as "villages". Aside from some bonus daily draws or time-limited events, there's a card collection screen to collect things like cars or weapons.
Yet, Narcos City offers 2 things that you won't easily find in similar titles. The first feature is the system of female "assistants". That works somehow comparable to pets, but it's more complex. You can earn exp for your assistant, get gifts to give her, or even take her on a "date". That means a series of dialogues, choices - and payments on expensive gifts. Eventually, leveling up girls will increase some bonus percentage, making progress a little easier.
The second thing, although minor - is the weapon selection screen. You'll start with a pistol that deals 1 point of damage, breaking 1 shield if an enemy is defending. Soon, you'll get access to more powerful stuff like rifle or sniper - but they'll need ammo for each shoot. A little fun thing is that - after using a non-pistol gun, there's a mini-game to sell the actual shoot power, different for each gear.
The drawback of that minor system is that ammo costs real money. Aside from this, the primary monetization method seems to be refilling energy and purchases around it. There are no ads to watch for rewards, but instead, you can get a premium "spin pass".
Last update: 13 Aug 2022 19:08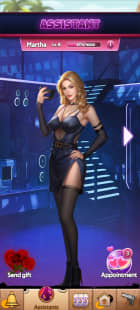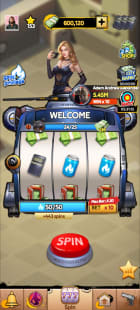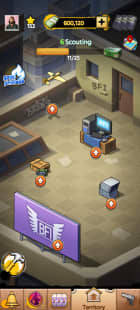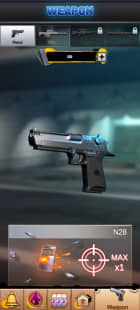 Resources
Shared by others