graphics
Theme

theme park
graphic style

2d vector
fully animated 2d characters
camera

isometric
show more
monetization
reward ads
gacha / chests
show more
technical
sign in methods (Android)

Google, Facebook, Guest / none
FPS selection
show more
Idle
restart mechanics

none
show more
Idle property management
shards / fragments collecting
show more
details
release date

26 Apr 2022
show more
sign in methods (Android)
Google, Facebook, Guest / none
Description
Overcrowded is an ambitious free-to-play Theme Park manager. Despite simple graphics, it comes with some features rarely seen in similar mobile titles.
The game uses simplified, colorful, isometric aesthetics recently popular in casual titles. You'll see the green, tiled area with a dirt-brown lane and some basic theme park structures by the road.
Yet, the most crucial part here is the flow of visitors that soon crawls out of the bus. Surprisingly, instead of little kids, you'll see just faces - like the mob of emojis. It's not necessarily a cheap trick to appeal to younger users - it makes perfect sense in the context of all the features here. When tens of such faces move over the screen, interact with attractions, and toss gold coins, the simplicity instantly stops being a problem. Even the UI - giant buttons with gradients - seems to weirdly fit there.
As always, the game is about building and upgrading attractions to get more visitors & more money. In Overcrowded, things get a little more complex than that - like the fact that every individual visitor is described by a set of needs. If the visitor goes to a fun place - fun increases; after an exciting adventure, the thrill grows, and after a sweet ride, cuteness soar. At the same time, they're getting hungry over time, sick after crazy runs & angry after waiting in long queues.
To deal with those problems, you'll need to think about the design of your park. Despite having a grid layout - you won't be able to freely place attractions. Instead, you'll be able to add food stands, benches, and decorations - not only for looks but also to control the flow of visitors. If done right, you'll quickly have a smooth stream of happy, laughing (and paying) visitors.
There are also events happening from time to time where you'll open a new park with a unique theme and some extra mechanics.
Games of that genre are usually riddled with ads. Here, you can watch some videos to speed up builds or receive bonuses, but you'll be totally fine with just a few ads per hour. If that's too much, you can take the no-ads offer, aside from additional builders, gacha chests, or other deals.
Last update: 14 Aug 2022 20:08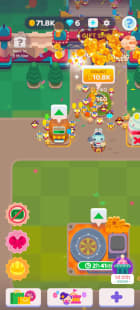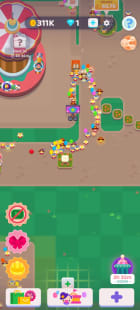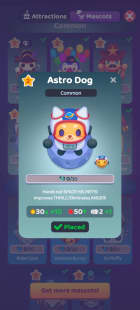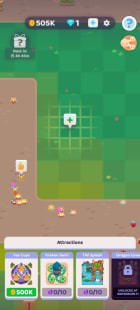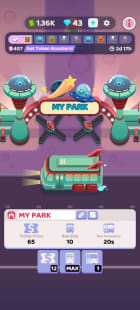 Resources
Main
Shared by others