paper / conquer territory
animated character
show more
graphics
camera

fixed camera (perspective)
graphic style

lowpoly
show more
controls
orientation

vertical
Controller support
technical
sign in methods (Android)

Other account, Guest / none
show more
details
release date

13 Sep 2018
App size (memory used)

257
show more
gameplay
playable offline
show more
IO games
powerup after ad
show more
monetization
ads amount

tons of ads
show more
camera
fixed camera (perspective)
sign in methods (Android)
Other account, Guest / none
Description
Paper.io 2 is the new, improved version of one of the most popular IO game types. The simple goal of covering most of the board with your color just by running could now be achieved more conveniently.
Game aesthetics are left intact at its heart - it still looks dead simple. Still, instead of 2d (or almost-2d) objects, here you'll be able to see things from every angle, despite from an isometric camera. At first, you might think there's not incredibly much to see - just colorful boxes and other colorful flat objects. Yet, when you earn some extra skins, things get a little bit more interesting. You'll be able to control some low-poly animals like elephants or ducks, but also planes, trucks, or donuts. Additionally, each skin comes with its own fill style - duckling with bubbling water, the elephant with savannah, etc.
Game rules are simple, too - you need to leave your territory and enter it again for a chance to grow. Everything you've circled will be added to your terrain, but if another player crosses your track - you're dead. You'll need to find a balance between long journeys (meaning significant gains) and safety. To make things more interesting, every few kills, you'll be given temporary power-up - speed boost, shield, etc.
There's not much to do outside the board - just fill one of the requirements for new skin - but the number is somewhat limited.
There's no premium score/premium currency in Paper.io 2, but there are ads. Lots of ads. Ads are shown not only after a lost game, as a price for reviving, but even during the game - before getting power up.
Last update: 13 Aug 2022 08:08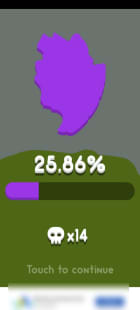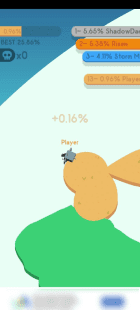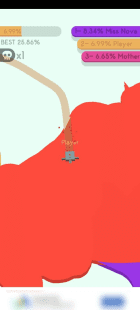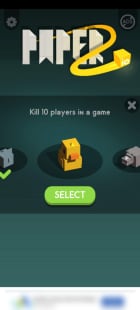 Resources
Shared by others