technical
graphics quality selection
PC/console/browser cross-play
server / region selection
FPS selection
show more
gameplay
bluetooth PVP
hot-seat PVP
PVP type

real-time PVP
show more
social
photo avatar
clan wars
show more
IO games
customization aspects

2
show more
graphics
camera

fixed camera (perspective)
show more
camera
fixed camera (perspective)
graphics quality selection
PC/console/browser cross-play
Description
Paper.io 3D is yet another attempt at a popular io game type - with a fresh perspective.
Paper.io titles always looked minimalistic, clean & colorful, but the introduction of the third dimension took things to another level. Not only covered land look better, slightly elevated, but skins make even more difference. Imagine British bus spawning green grass, Big Bens, and squirrels, or wild ostrich running around, creating a savanna. Moreover, with third-dimensional maps - objects floating in space - those worlds will bend, creating a nice little-planet effect. Too bad the number of skins is so limited - and (aside from staring shape) there are no additional customization aspects.
The base gameplay is well-known - steer running character with a single drag and make loops, starting and ending on your terrain - to add this looped space to your properties. Making big detours could bring larger gains - but you risk being cut off - then you die, losing all the terrain. 3D isn't a huge change here - but a nice addition. The shape of the land below can affect the route needed to complete the loop - e.g., near the rubber duck's neck.
Your goal will be completing one shape after another - unlocking new maps & skins. This can be done with partial success - but it'll always be best to aim for 100% coverage. This way, you'll unlock special satellite maps - smaller versions of regular ones.
IO games are traditionally PVP-focused - but it's hard to say whether others on the map are real players - or 100% bots.
Unfortunately, the number of ads here can be hard to withstand. Long ads in exchange for reviving, ads after defeat, banners at the bottom, additional banners on the main screen, plus even more banners when idle. A no-ad purchase might be necessary to play this game and preserve sanity.
Last update: game added to overtap: 5 Dec 2022 14:12
No updates seen yet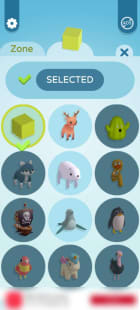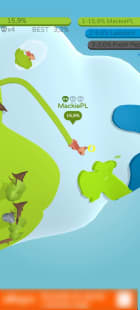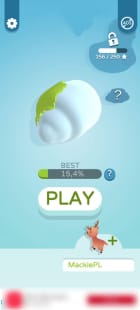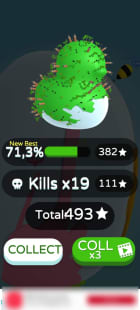 Resources
Shared by others