Clicker
interaction type

tap or swipe
graphics
Theme

pirates
camera

fixed camera (perspective)
graphic style

lowpoly
show more
Idle
auto-allocate upgrades
offline gains limit

time
show more
technical
low power mode
sign in methods (Android)

Google, Guest / none
show more
details
release date

10 Mar 2021
Permissions count

7
show more
monetization
ads amount

many ads
show more
camera
fixed camera (perspective)
Description
Pirate Inc is an idle clicker mobile game for those who like lots of coins, big numbers.. and pirates.
For this kind of game, it's crucial to be pleasant to watch. Here, we got 3d, low-poly graphics with a somehow strangely cylindrical captain. The camera is primarily static, showing him and some cannons behind - and it's nice to watch those weapons grow as you progress. The environment is pretty simple and OK, but it's the action that matters.
Your enemies are just harmless chests, continuously appearing on screen. They're getting hit by the captain, shot by cannons, and tapped by you - resulting in numbers - and coins - flying everywhere. If that isn't enough - from time time, "fewer" will start, and lots of small chests will fall from the sky to pile in front of you - waiting to be crushed.
The UI is quite different from the game scene. It's based on large, plain, rounded, single-colored shapes with few effects. It may be good here, reducing complexity, as sometimes the number of UI elements on the main screen is slightly overwhelming. While upgrade icons are pretty basic, most UI arts are lovely, blocky vector drawings. Strangely familiar pirates, goblins, sharks, or parrots are a nice addition.
The gameplay here is based purely on money. You're destroying chests to get more money, then buy upgrades with coins to get even more money. The crucial thing is to be able to go to the next, more profitable worlds - and this is unlocked with.. money. The game can be played idle, with 2h max offline time quickly extended for free. Yet, active playing - tapping - makes things much faster, especially as many things happen then. There are occasional fevers, boss crates, but also power-ups to spot&tap. Also, aside from money power-ups, there are items to be drawn from chests, crew to unlock, and skill-tree unlockable with levels. Finally, you'll be able to prestige, going back to the beginning in exchange for a super-valuable, unique currency.
There are no additional modes or challenges, just tons of offers & chances for extra money. There are quests, achievements for some free gems, and battle pass with the usual premium option. Aside from getting things with premium currency, almost everything can be boosted by watching ads. Fortunately, you can purchase the no-ads option in the store.
Last update: 12 Aug 2022 12:08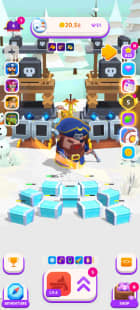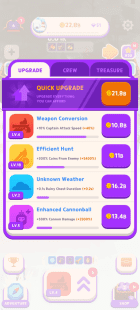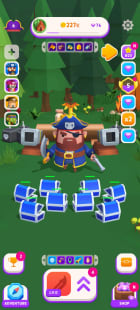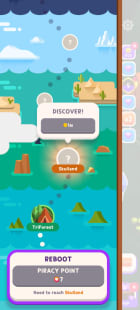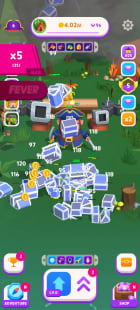 Resources
Shared by others