Casual sim
gathering / harvesting natural resources
show more
graphics
Theme

pirates
show more
technical
AR support
FPS selection
graphics quality selection
show more
gameplay
walkable lobby
bluetooth PVP
hot-seat PVP
show more
monetization
gacha / chests
show more
details
App size (memory used)

366
show more
Description
Pirate Raid - Caribbean Battle is an interesting pirate-themed casual simulator with elements you might've seen rather in RPGs.
You start the journey the same way as in many other casual sims - drag to move, go somewhere for resources, go to the base to use it. Yet, valuables won't lie on the ground in this world - you'll need to fight NPCs to get them. Each enemy ship will drop barrels (and sometimes more), so you'll just need to collect it from the wreck and bring it to market for the money. The gold can be spent nearby to upgrade your ship, so you can defeat tougher enemies, earn more money, and so on. Plus, you can upgrade the lighthouse, so you'll be able to reach further lands - and after some time - go to a new map.
Surprisingly, that's not everything you can do in Pirate Raid - 2 gacha-related systems make things much more fun. Firstly, you can get crew members for your ship, acting as equipment pieces - one capita, one navigator, cook, etc. You can even upgrade & fuse them.
The second system allows you to build new ships and upgrade existing ones, with not only stat boost but also active abilities.
The game uses low-poly 3d graphics - but it seems more than enough for the ship-battle scene. The ships look convincing, your own boat evolves visually with each level - and cannon effects aren't bad either. Crew members are viewable in 3d, with a little gloomy pirate vibe.
Unfortunately, the game is hard to play with all those ads. The banner is always visible at the bottom, taking up precious screen space. Earnings can be multiplied with videos, but ads will still appear randomly even when you deny it. Moreover, there are several fun choice mini-events - but most of the paths are ad-only!
Last update: game added to overtap: 12 Dec 2022 11:12
No updates seen yet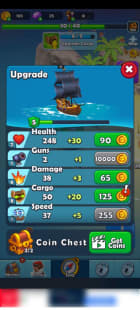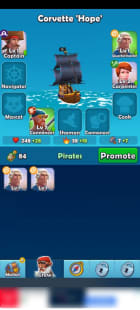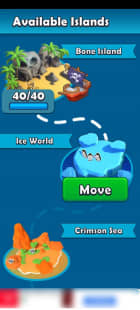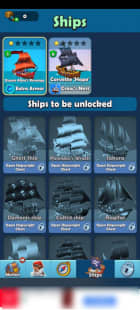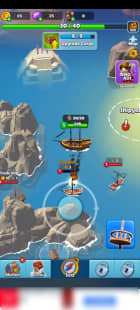 Resources
Shared by others