discontinued
graphics
graphic style

lowpoly
Theme

fantasy
camera

fixed camera (perspective)
show more
RPG
variable team size
show more
monetization
chest opening waiting period
ads amount

little ads
show more
social
guilds
in-game text chat
show more
gameplay
online events
show more
controls
orientation

vertical
show more
details
release date

20 Oct 2020
show more
camera
fixed camera (perspective)
chest opening waiting period
Description
Pocket Battles is a low-poly idle RPG for mobile devices. It lets you form a massive army of collected characters and send it to fight against other armies.
The distinctive feature of the game is quality yet fully low-polygon aesthetics. Developers are consistent here - this simplified 3d style is used not only during battles but also in all menus or prerendered art.
Thanks to this choice, the game runs smoothly, even with tens or even hundreds of battling figures. It is worth mentioning that, unlike most RPGs, here max team size will grow significantly with progress. Also, for most units, the grade is reflected visually in squad size, reaching up to 9. All of that, together with unit variety and special skills, lead to an immersive spectacle.
The primary mode of Pocket Battles is a campaign - increasingly more challenging battles against hordes of enemies, rewarded with currency & chests. Those chests - after some time - can be opened to get new cards - new units, increasing your power. There are other ways to get them - with standard or premium currency or as a reward for some challenges. Also, even common, low-grade units won't be useless - they can be merged for upper-grade one - in multiple ways.
The units are divided into 4 races and multiple types and roles. There are tough fighters, sneaky assassins, archers, mages, healers, and more. Rare types got some unique skills, and there are also heroes with powerful abilities - you can bring one to each fight.
Your growing army can not only be used in the linear scenario. For some instant reward, you can enter challenges - including those with reduced units choice. There's also an option to compete with others in ranked PvP in the arena.
Fortunately, the game isn't ridden with ads - you can increase earnings from each battle or get some extra rewards, but you won't feel forced to do so. Instead, you can spend premium currency for gacha - but Pocket Battles can be enjoyed without spending a penny.
Last update: 8 Nov 2022 08:11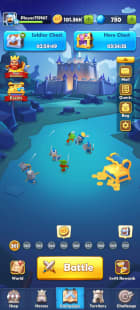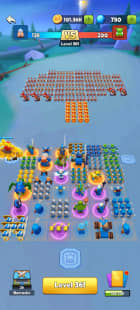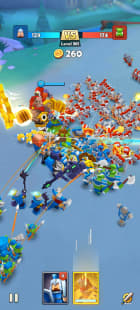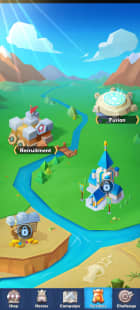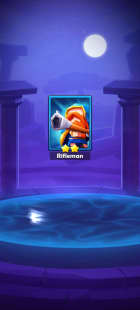 Resources
Main
Shared by others