Idle property management
expense management
show more
graphics
Theme

prison
camera

isometric
show more
Idle
worlds available

6
skins / costumes for characters / vehicles
currencies

2
collection system
show more
monetization
VIP system
ads amount

many ads
show more
details
App size (memory used)

447
show more
gameplay
online events
show more
skins / costumes for characters / vehicles
Description
Prison Empire Tycoon is an idle property management simulator. At its core, the game is based on a "theme park" template - bring more "guests" to your property, get more money from them, upgrade the property, and repeat. Using this money-based approach in the case of prison might be surprising. Still, the game brings more complexity than a simple "come and pay" title.
In the case of graphics, Prison Empire Tycoon mixes simplified, isometric 3d graphics and some 2d vector arts. You won't see too many details of your prison, even though there's a zoom - characters are blocky and differ manly in outfit colors. Still, no more details are needed to easily differentiate the rooms and even show slight upgrades. Better beds, desks, or lighting in cells - or in any facility - are a neat indicator of the prison progress. At the same time, those simple prisoners and workers are carefully animated, with behaviors like waiting in the queue, using room equipment, or resting between shifts. Time is running, and you can see some scheduled activities taking place, making the whole prison lively and ordered at the same time.
Your prison can only welcome a limited number of prisoners. The earned money depends on the numbers and cell standards, but the money isn't the only thing you should watch. Each "guest" has several gauges for different needs, like comfort and hunger. You can easily see the summary for the whole prison, so you can get a better idea of what to improve. Yet, new rooms and utilities not only costs money but often use energy or water. Some problems could be solved by hiring more staff, but you'll need to pay more wages, reducing margins. Ignoring prisoners' needs is a bad idea in the longer run, as unhappy inmates could start a riot. Earning money itself is not a goal of prison - the goal is to "reform" prisoners, keeping them long enough and then releasing them. With a high enough reformed counter, you can switch to start managing new, more challenging prisons. Add special, dangerous prisoners, collectible cards, and online events, and the image is complete.
Prison Empire Tycoon gives you plenty of opportunities to spend money to make gameplay easier - longer offline time, premium currency, or disabling ads. The last one might be tempting, as there's almost an unlimited amount of reward ads to watch for bonus cash.
Last update: 11 Apr 2022 16:04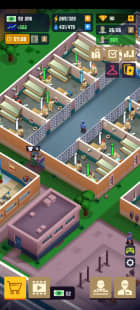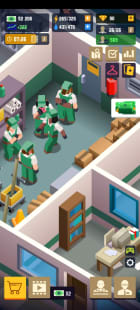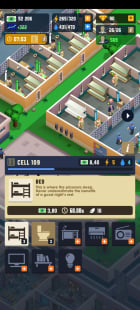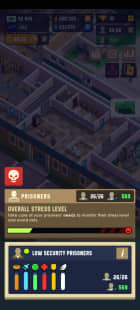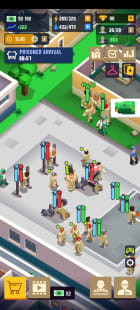 Resources
Shared by others